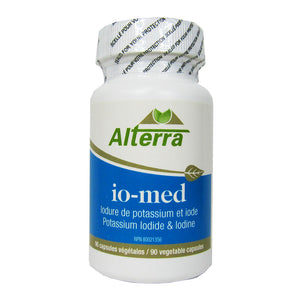 Info: 90 Vegetable Capsules
Product Notes:
Iodine is necessary for proper function of the thyroid gland in the body, and may help prevent conditions such as iodine deficiency and hypothyroidism. Alterra's combined potassium iodide and iodine supplement provides additional iodine to assist in normal bodily functions and encourage the thyroid gland to produce adequate levels of the thyroxine (T4) and triiodothyronine (T3) hormones.
Potassium Iodide & Iodine for Thyroid Support
Thyroid deficiency is becoming more common in our health conscious society with the decreased consumption of table salt, which has been the main source of iodine for most people in some regions. A deficiency in these thyroid hormones may result in lower metabolic rate, weight gain, fatigue, dry skin, sensitivity to cold, as well as contribute to hot flashes associated with menopause.
Note: In the past, we have had inquiries about an iodine/iodide supplement called Iodoral® from Optimox that is available in the United States. Iodoral – a tablet form of Lugol's solution (potassium iodide and iodine) – is not currently licensed for sale in Canada. While not containing exactly the same balance of ingredients, Alterra's Iomed potassium iodide and iodine formula is a licensed product in Canada, with Health Canada Natural Product Number: 80021356.
Alterra Io-Med Ingredients:
Each capsule contains:
8 mg Potassium Iodide (32 mcg of Iodine)
4 mg Sodium Iodine (4 mcg of Iodine).
Non-medicinal ingredients: Microcrystalline cellulose, vegetable magnesium stearate.
Suggested Usage:
Children and adults may take one capsule per day, or as instructed by a healthcare professional.
Warnings:
Ingestion of iodine and/or potassium iodide has been associated with certain complaints. If you experience any of the following, stop ingesting and contact your physician: Acne-like skin lesions, headache in the frontal sinus, unpleasant brassy taste, increased salivation and sneezing. If you experience any unusual symptoms, contact your physician.
UPC / Barcode:

625744855008