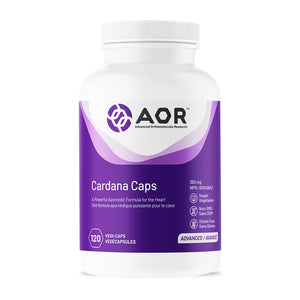 Cardana Caps features a synergistic combination of five of the most effective Ayurvedic herbs known to support different aspects of heart health.
Cardana Caps features a synergistic combination of five of the most effective Ayurvedic herbs known to support different aspects of heart health.
Product Notes:
If you are prone to high blood pressure and looking for a natural way to help protect yourself against cardiovascular disease in addition to the standard healthy lifestyle guidance, AOR can help.
You might eat right, exercise regularly, refrain from smoking and excess drinking, yet still be subject to high blood pressure which may lead to cardiovascular health problems, possibly due to many other factors such as the stresses you are under.
A Powerful Ayurvedic Formula for the Heart
In keeping with AOR's philosophy of combining a number of time-tested natural ingredients having multiple mechanisms of complementary action for a well-rounded, safe and effective approach to a multi-faceted health issue, Cardana Caps has blended five of the most powerful herbs the ancient Indian medical system known as Ayurveda has used to support that vital intersection of the heart, blood pressure, and stress. These include:
Arjuna, to help reduce both your blood pressure and your heart rate, while also increasing the strength of your heart's contractions;
Coleus forskohlii, to dilate (widen) your blood vessels, in order to reduce your blood pressure and improve the efficiency of your heart's contractions;
Hawthorn, to not only increase the force of those cardiac contractions to improve blood flow, but also the heart's tolerance to oxygen deficiency (which might happen during times of stress or excitement, for example), and also for its anti-hypertensive and anti-arrhythmic properties;

Boerhavia diffusa to help reduce blood pressure by virtue of its diuretic properties (it increases how much salt and water you pass through your urine, which can help, since salt can lead to more fluid building up in your blood vessels, which elevates blood pressure); and,
Ashwagandha, to reduce the effects of stress, which includes cardiovascular elements like a more rapid pulse and increased blood pressure.
Together, these five carefully selected ingredients can promote normal blood pressure and a healthy flow of blood to the heart and a healthy heart rate, and reduce the effects of stress on the heart muscle itself.

Arjuna
In traditional Ayurvedic medicine, Arjuna is used in the maintenance of a healthy heart. It may support healthy blood flow, support heart muscle function, reduce blood pressure, and balance cholesterol. With all these benefits, there is also the possibility Arjuna can improve the ability to exercise.
Ayurveda, the Vedic "Science of Life," was well aware of the serious health threat posed by cardiovascular disease. The ancient texts of the tradition describe atherosclerotic thickening (dhamani praticaya) and hardening (dhamani kathinaya) of the channels, resulting in the limitation of the flow of life-energy to the heart (vata dosa) and the painful pressure of angina (ruja).
Twelve hundred years ago, the Ayurvedic physician Vagbhata asserted (in the Vedic medical text the Astang Hridyam) that Nature had provided a powerful medicine for these problems in the smooth, white bark of Terminalia arjuna, a tall, dense tree with long, conical leaves and white flowers.
Traditional use has been validated by solid science over the course of recent decades. There has been a great surge of interest in Terminali arjuna ever since its heart-health benefits were singled out by Dr. Peter J. D'Adamo in his book, The Complete Blood Type Diet Encyclopedia. D'Adamo lists Arjuna as a "Daily Herb" for Type A, and as a key part of his "Cardiovascular Protocol" for Type O. But leaving aside Dr. D'Adamo's speculations, the science supporting Arjuna's heart-healthy properties is solid ground.
AOR previously marketed a dedicated Terminalia arjuna extract formula called 'Arjuna Flow' which was effectively replaced by Cardana Caps.
Cardana Caps Ingredients:
Each 363 mg capsule contains:
Terminalia arjuna (Arjuna): 113 mg
Crataegus laevigata (Hawthorn, 3.2% flavonoids as hyperoside): 100 mg
Coleus forskohlii (10% forskolin): 50 mg
Withania somnifera (Ashwagandha): 50 mg
Boerhavia diffusa (Red spiderling): 50 mg
Non-medicinal ingredients: maltodextrin, microcrystalline cellulose, silicon dioxide, sodium stearyl fumarate and sodium benzoate. Capsule: hypromellose.
Part of AOR's Advanced Series, Cardana Caps is a vegan, non-GMO, and gluten-free product. Advanced Orthomolecular Research guarantees that all ingredients have been declared on the label. This formula contains no wheat, gluten, nuts, peanuts, sesame seeds, sulphites, mustard, soy, dairy, eggs, fish, shellfish or any animal by-product.
Suggested Usage:
Adults: Take one to two capsules twice daily between meals, or as directed by a qualified health care practitioner. Take a few hours before or after taking other medications or natural health products. Use for a minimum of two months to see beneficial effects.
Warnings:
Do not use if you are pregnant or breastfeeding. Consult your healthcare practitioner prior to using Cardana Caps if you are taking cardiac glycosides such as digitalis/digoxin, blood pressure medication, diuretics or anticoagulants/blood thinners.
Consumption with alcohol, other drugs or natural health products with sedative properties is not recommended. Discontinue use if you experience mild gastritis, constipation, headaches and/or vomiting. Consult a health care practitioner if symptoms persist or worsen or if you experience new symptoms.
Health Canada Natural Product Number: 80040647.
UPC / Barcode:

624917042696