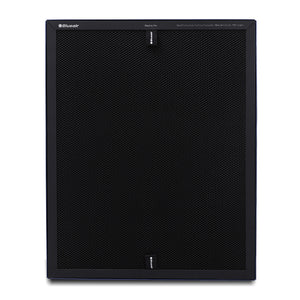 Info: 1 Replacement Combination Particle and Gas & Odor Filter; Currently Out of Stock

For use with the Blueair 200 series air purifiers. Blueair's new Dual Protection filter is a more efficient successor to the SmokeStop GO (gas/odor) filter, providing uncompromised particle removal and faster removal of gases and odors. Shipping included in Canada.
Product Notes:
Compatible with Blueair 200 and 300 Classic Series air purifiers including Models 203, 205, 270E, 280i, and the 203 and 270 E Slim. Blueair 200 Series SmokeStop gas and odor filters have been discontinued and effectively replaced by these DP (DualProtection) filters.
The Blueair Classic 200 Series DualProtection Filter provides both Blueair's customary superior level of particle removal using HEPASilent™ technology – rapidly removing 99.97% of pollutants such as pollen, dust, pet dander, mold spores, viruses and bacteria down to 0.1 micron in size – and equally comprehensive but much faster gas and odor removal than before, by using pure, high quality activated coconut carbon in a powdered form with a high porosity count to remove gaseous pollutants like smoke, smog, traffic exhaust, odors (such as from cooking), PM 2.5 (fine particles less than 2.5 micrometers in diameter), airborne chemicals, and VOCs (volatile organic compounds), up to four times faster than other types of carbon filters, and without the use of any chemical additives.
Technical Specifications
Dimensions: 14 x 18 x 1.8 inches (454 x 365 x 45 mm).
Filter Type: Non-woven gradient PP and PE blend fibers and activated carbon granules, pleated for maximized filter area.
Filter frame material: Paper.
Recommended Filter Change: 6 months (4,380 hours) when used 24 hours a day.
Filter Model 200300DP / 201DPF
Related: Also see Blueair's 200/300 series particle filters.
UPC / Barcode:

689122011981