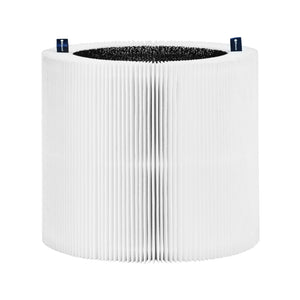 Info: Coming Soon: Replacement Main Filter for Blue Pure Max Air Purifiers
Replacement primary filters for use exclusively with Blueair's new Blue Pure MAX generation of air purifiers, where these 2-in-1 HEPASilent filters can remove 99.97% of airborne particles even down to 0.1 microns , as well as many volatile organic compounds (VOCs) and odors.
This MAX series contains filters for several different Blueair Max air purifiers; please check your filter/model number carefully.
Product Notes:
Blueair Blue Pure Max Filters use a combination of an inner layer of odor-eating activated carbon and an outer particle filter.
Compatibility:
These combination filters are designed only for the five types of MAX machines pictured here (please select the appropriate model, when ordering) which began selling in North America in April, 2023, and not for the previous Blue Pure models, which are a slightly different size and shape and have their own series of filters.
To determine which machine model you have, if you no longer have your original boxes or receipts, you can just look for the product's label on the head of the machine (please see the video and instructions below on how to remove it to change the filters) to see its model and corresponding filter names, as illustrated in this next photo. Alternatively, the model name will also appear in the Blueair app on your smartphone, if you have already connected your unit to that.
When used as part of a HEPASilent technology system (which also uses an ion generator to dramatically improve the likelihood of the negatively charged airborne particles 'sticking' to the filter), these standard main filters are designed to not only remove 99.97% of airborne particles (including dust, dander, pollen, mold spores, bacteria, and some viruses), but also many light household odors from pets, cooking, and chemical and gas emissions that afflict typical households.
Please note, as of this writing (in June 2023), these main filters only come in the standard type – that is, there are no SmokeBlock filters for the MAX series, yet. Similarly, although there is slated to be a total of five coloured prefilters (two of which are just shades of grey) available for all these machines, they are not yet available in Canada.
Note, as with the original Blue Pure machines (for all but the original 211), these filters fold down flat, to reduce shipping and replacement costs and make them easier to dispose of. There is a single filters contained per box/type.
How to Change Main Filters:
When the unit indicates it is time to replace the Particle & Carbon filter after about six to nine months of use (via the red "Filter replacement" LED located in-between the two control buttons on top), just do the following.
Unplug the unit; push down slightly on the top of the machine, turn it counter-clockwise and lift up, to remove the head; remove the fabric prefilter (just pull it up from the bottom hem, like taking off a T-shirt); lift off the noise shield collar; grasp the two pull tabs on top of the existing main filter, and pull it away from the plastic basket-shaped frame it fits around. Then simply reverse that process with the new filter (after removing its plastic wrapping). Finally, hold the power button down for 15 seconds so the machine can reset its change filter indicator light and filter lifespan algorithm.
It's also recommended that you perform two other cleaning and maintenance tasks at this point, if you haven't been doing them periodically already: wash the fabric pre-filter in a washing machine on a lower temperature setting, and hang it to dry; and clean the air quality sensor (as shown in the final video).
Be advised that when you first use a new filter, you may notice it produces an odour, which is mainly due to its activated carbon material. As Blueair notes in an FAQ section of its Support page, don't worry, that's normal, and will go away on its own. They write, "As with any product a slight odor may be noticed in some filters due it its inherent material....New products may emit an odor when opening the box, that is normal. All materials have their own smell, including filter materials. The filter is enclosed by a plastic bag and a cardboard box, and the smell from the product is accumulated inside. The smell from filter media is harmless." To dissipate that odour before using it in your preferred room, they suggest placing the unwrapped filter by an open window first before using, or running it in a different room for a few days until the odour fades away.

Product Options:

F4MAX, for 411a/Auto Max -
$35.99
- UPC: 689122023281
F4MAX, for 411i Max -
$35.99
- UPC: 689122023281
F3MAX, for 311i Max -
$53.99
- UPC: 689122023298
F3MAX+, for 311i+ Max -
$59.99
- UPC: 689122023298
F2MAX, for 211i Max -
$89.99
- UPC: 689122023311