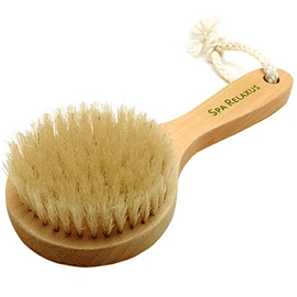 Info: In Two Types; Limited Quantity Available

Info: In Two Types; Limited Quantity Available

This time, we do mean to boar you! These bath and body brushes both have hundreds of long, 100% natural boar's hair bristles which are strong enough to stimulate your blood circulation and remove dirt, surface oils, and toxins, and exfoliate the rough or dead skin on top to reveal the newer skin cells beneath, but without being too abrasive.
Product Notes:
You can choose here between one with softer bristles with a fixed, relatively short handle (about 4 inches long); or one with slightly stiffer bristles and a much longer handle, which you might prefer for scrubbing your back, which can also be detached from the handle and used just with its hand strap. Both have wooden handles with hanging ropes attached so they can drip dry.
The Soft Bristle Body Brush (pictured above) is 7-3/4 inches long, altogether, including the wooden handle. It has a round head, up to 3-1/4 inches wide, with a nearly 3-inch diameter of 3/4-inch high boar bristles.
The Back/Bath Brush is a long-handled brush designed to clean those hard-to-reach areas on the back of your body, thanks to its 12-inch long handle. But it's dual purpose: the brush head can also be removed from the handle, and strapped to your hand to more easily scrub your arms and the front of your body, as well. This unit is 17 inches long, altogether, including the detachable foot-long handle. The brush head itself is a 5-inch oval shape, with the interior boar bristles portion being 4-1/4 by about 2 inches wide, and the bristles extend about 3/4 of an inch.
Suggested Usage:
Can be used with either wet or dry skin. To use to clean, wet brush and apply a liquid body soap or cleansing gel to the tips of the bristles, then gently brush in circular motions. Rinse thoroughly and hang to dry after each use.

Product Options:

Soft Bristle Body Brush -
$7.99
- UPC: 628949057604
Back Brush w/ detachable foot-long handle -
$10.99
- UPC: 628949105787