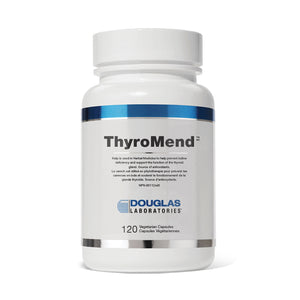 Info: 120 Vegetarian Capsules
New to Canada! Douglas Laboratories ThyroMend could be considered a more powerful version of their Thyro-Set product; both formulas are designed to support thyroid function.
Info: 120 Vegetarian Capsules
New to Canada! Douglas Laboratories ThyroMend could be considered a more powerful version of their Thyro-Set product; both formulas are designed to support thyroid function.
Product Notes:
A synergistic blend of antioxidants, medicinal herbs, and carefully selected marine sources of highly bioavailable iodine, this Hormone Specific Formulation has been specially designed to not only help support the thyroid gland's ability to produce thyroid hormones but also how well the various tissues throughout the body that are attuned to those hormones respond to them, and to help relieve the "brain fog" often associated with hypothyroidism.
As we age, our body begins to lose its speedy metabolic rate, thanks to a slowed production of the primary thyroid hormone (specifically, the conversion of T4 (thyroxin) to T3 (triidoothyronine)). That decrease may also be caused by frequent dieting. And if your metabolism had already struggled at an early age, keeping body fat and weight off later on can be quite difficult.
In addition to weight issues, other symptoms of improperly functioning thyroid glands can be coldness in the extremities, increased cholesterol and blood pressure, constant fatigue, and even depression. It can also bring about changes in your skin, hair, and nails, and reproductive functions.
To help restore optimal thyroid functioning and reverse such symptoms, ThyroMend addresses all seven of its stages:
providing the iodine the gland needs to produce the hormones, in a readily usable form;
helping the cells in the thyroid which use that iodine to take it up more efficiently;
stimulating the actual production and secretion of the two hormones (T3 & T4) in the thyroid;
promoting the ability of the liver cells and other cells to convert T4 into the more active T3;
further enabling the thyroid receptor molecules to successfully attach themselves to the appropriate cells in your body, which can enhance various aspects of metabolic functioning (such as breaking down old cells and building back new ones), cardiovascular activity (heart rate, circulation, etc.) and blood sugar balance;
enhancing the thyroid receptors ability to bind to DNA, which enables them to optimize the growth and development of new cells such as the thyrocytes involved in step 2;
assisting the actual changes in gene expression the T3 induces throughout the body in order to maintain muscle control and influence cardiac, cognitive, digestive, and other functions.
ThyroMend Ingredients:
Each capsule contains:
233 mg Kelp Thallus (Ascophyllum nodosum); providing 135 mcg Iodine
91 mg Guggul Gum Oleoresin Extract (Commiphora wightii) (2:1) (182 mg dried equivalent)
77 mg Bacopa Aerial Parts Extract (Bacopa monnieri) (7:1) (539 mg dried equivalent)
60 mg Ashwagandha Root Extract (Withania somnifera) (10-15:1) (600-900 mg dried equivalent)
56 mg Hops Strobile Extract (Humulus lupulus) (10:1) (560 mg dried equivalent)
48 mg Forskohlii Root Extract (Plectranthus barbatus) (25:1) (1200 mg dried equivalent)
43 mg Sage Leaf (Salvia officinalis)
42 mg Rosemary Leaf Extract (Rosmarinus officinalis) (8-12:1) (336-504 mg dried equivalent)
Non-medicinal ingredients: Hypromellose (capsule), dicalcium phosphate dihydrate, magnesium stearate, silica.
Suggested Usage:
Adults: Take 2 capsules daily, or as directed by your healthcare practitioner. Consult your healthcare practitioner for use beyond 4 weeks. Store in a cool, dry place.
Warnings:
Keep out of reach of children. Do not use Douglas Labs Thyro-Mend if you are pregnant, breastfeeding or have a seizure disorder such as epilepsy. Consult your healthcare practitioner prior to use if you have depression or related diseases or are taking blood thinners.
Consult your healthcare practitioner if symptoms persist or worsen. Avoid taking ThyroMend with alcohol or products with sedative properties. Some people may experience drowsiness. Exercise caution if operating heavy machinery, driving a motor vehicle or involved in activities requiring mental alertness. May cause digestive problems.
Health Canada Natural Product Number: 80112445.
UPC / Barcode:

310539980132