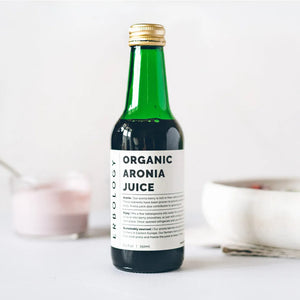 Info: 250 ml Glass Bottle - Available in Store Only
The fruit of the Aronia shrub (also known as Chokeberry) originated here in North America but has also been widely cultivated in Europe. Due to its pigments, it's extremely high in antioxidants, with its juice providing up to ten times more anthocyanins and flavonoids than cranberry juice.
Product Notes:
Aronia juice has a tart/sweet taste, with blueberry and pomegranate notes, with tannins similar to those in red wine.
Aronia contains many minerals and other useful microelements such as manganese, copper, molybdenum, boron, iodine, and cobalt, but doesn't accumulate heavy metals or toxic elements such as lead, tin, cadmium, arsenic.
Studies suggest aronia is a heart-healthy fruit which may have a beneficial impact on increasing immune defenses and reducing blood glucose levels and chronic low-grade inflammation and possibly lowering blood pressure, to help protect against cardiovascular diseases.
Related: Also see Nutridom Aronia 2000 capsules.
Ingredients:
100% organic aronia berries, sustainably sourced from small independent farms in Eastern Europe. Undiluted and unsweetened.
Suggested Usage:
Delicious on its own, neat, or add some to a glass of water or fruit juice, or incorporate into your favourite smoothies.
Supporting Science:
"Chokeberry (A. melanocarpa (Michx.) Elliott)-A Natural Product for Metabolic Disorders?" Nutrients, 2022.
"Effects of Aronia melanocarpa on Cardiometabolic Diseases: A Systematic Review of Quasi-Design Studies and Randomized Controlled Trials." The Review of Diabetic Studies, 2022.
"Potential Benefits of Black Chokeberry (Aronia melanocarpa) Fruits and Their Constituents in Improving Human Health." Molecules (Basel, Switzerland), 2022.
"The effect of Aronia consumption on lipid profile, blood pressure, and biomarkers of inflammation: A systematic review and meta-analysis of randomized controlled trials." Phytotherapy Research: PTR, 2019.
"The Efficacy of Black Chokeberry Fruits against Cardiovascular Diseases." International Journal of Molecular Sciences, 2021.
UPC / Barcode:

5060321910025