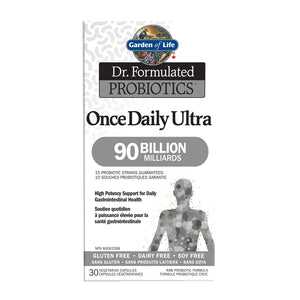 Removed 12/3/19
Info: 30 Veg. Capsules
Removed 12/3/19
Info: 30 Veg. Capsules
Product Notes:
Healthy intestinal flora may be disrupted by a course of antibiotics. Once Daily Ultra can help rebuild healthy levels of gut bacteria, as well as help people dealing with serious gastrointestinal issues such as Leaky Gut Syndrome, I.B.D., colitis, C. difficile, or diarrhea due to salmonella. 
Like most probiotic blends, Dr. Formulated Once Daily Ultra may also reduce inflammation, improve immune response, reduce certain types of allergies (both food and skin), and maintain healthy cholesterol levels.
Health Canada Natural Product Number: 80063398. Formulated by Dr. David Perlmutter, an Expert in the Human Microbiome.
Ingredients:
Each capsule contains:
Lactobacillus plantarum (Lp-115): 10 Billion CFU
Lactobacillus rhamnosus (HN001): 9 Billion CFU
Lactobacillus paracasei (Lpc-37): 4 Billion CFU
Lactobacillus casei (LC-11): 3 Billion CFU
Lactobacillus acidophilus (La-14): 1.8 Billion CFU
Lactobacillus acidophilus (NCFM): 1 Billion CFU
Lactobacillus salivarius (LS-33): 2.4 Billion CFU
Lactobacillus gasseri (Lg-36): 1 Billion CFU
Lactobacillus brevis (Lbr-35): 0.4 Billion CFU
Lactobacillus delbrueckii subsp. bulgaricus (Lb-87): 0.1 Billion CFU
Bifidobacterium animalis subsp. lactis (Bl-04): 57 Billion CFU
Bifidobacterium breve (Bb-03): 0.6 Billion CFU
Bifidobacterium bifidum (Bb-06): 0.2 Billion CFU
Bifidobacterium longum subsp. longum (Bl-05): 0.2 Billion CFU
Bifidobacterium longum subsp. infantis (Bi-26): 0.1 Billion CFU
CFU = Colony Forming Units
Non-medicinal ingredients: Organic potato starch (tuber), organic acacia gum, silica, magnesium stearate, non-GMO vegetable cellulose capsule (hypromellose). Ingredients used to maintain the viability of the probiotics (dipotassium phosphate, monopotassium phosphate, trehalose, sucrose, sodium chloride, sodium ascorbate, magnesium sulfate, maltodextrin, sodium-L-aspartate, acacia gum, silica).
Vegetarian. Dairy free, soy free, and wheat and gluten free.
Suggested Usage:
Adults: Take 1 capsule once daily, at least 2 to 3 hours before or after taking any antibiotics, or as recommended by your healthcare practitioner.
Keep refrigerated.
If strong symptoms such as gas, bloating, or nausea occur when you first begin taking it, try opening the capsules and only taking part of them until your system becomes more acclimated.
Warnings:
Keep out of reach of children. Do not use if you have an immune-compromised condition (e.g. AIDS, lymphoma, or undergoing long-term corticosteroid treatment). Consult a healthcare practitioner prior to use if you are pregnant or breastfeeding, or if you are experiencing nausea, fever, vomiting, bloody diarrhoea or severe abdominal pain. If symptoms of digestive upset (e.g. diarrhoea) occur, worsen, or persist beyond 3 days, discontinue use and consult a healthcare practitioner.
UPC / Barcode:

658010120180