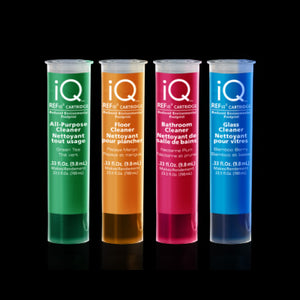 Info: 9.8 ml Cartridge; Available in One Type; Limited Quantity Remaining

Info: 9.8 ml Cartridge; Available in One Type; Limited Quantity Remaining

Refills for use exclusively with iQ reusable bottles (not included). iQ Refill cartridges help reduce your environmental carbon footprint. Re-use bottles, reducing waste and cost, and use highly concentrated refill cartridges to save money and reduce environmental impact. A 9.8 ml refill cartridge yields 700 ml of cleaning solution when mixed with water.
Product Notes:
Awarded in 2010 with "Best Green Packaging" by GREEN AWARDS, iQ eco-smart cleaning products enable consumers to clean consciously with a clean conscience. Using iQ's line of eco-friendly products with re-usable bottles results in a reduction in packaging waste by 80% and a reduction in carbon footprint by 70%.
Ingredients:
Multi-Surface Floor Cleaner: Corn and coconut derived surfactants, fragrance, colour, and water.

Suggested Usage:
Use Refill cartridge only with iQ sprayer and bottle. Keep away from heat. Keep from freezing.
Warnings:
Keep out of reach of children. Do not ingest. In case of contact with eyes, flush with water for 15 minutes.
UPC / Barcode:

897946000702