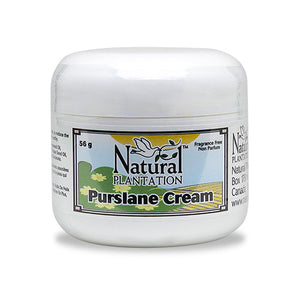 In addition to its base of natural purslane powder (which contains a variety of antioxidants and nutrients), Natural Plantation's Purslane Cream contains aloe vera and several other natural oils. It absorbs quickly and leaves no greasy residue. 
Sorry, this item is temporarily unavailable from the manufacturer.
Product Notes:
Suitable for all skin types and fragrance-free, this purslane skin cream can be used for a number of purposes, including for general maintenance and to relieve bites, itches, rashes, and even psoriasis, but it's gentle enough even for babies. 
Also see Natural Plantation's purslane supplements.
Ingredients:
Distilled water, Aloe vera, Safflower Oil, Apricot Oil, Macadamia Oil, Sesame Oil, Plant emulsifying wax, Vitamin E, Almond glycerides, Grapefruit Seed Extract, Purslane Oil (grapeseed oil, purslane oil).
Suggested Usage:
Apply to skin for insect bites, itchiness, burns, psoriasis, dry/chapped hands, or sore muscles. Also excellent for healthy skin maintenance.
Warnings:
Keep out of reach of children. Consult your healthcare practitioner prior to using purslane cream if you are pregnant or breastfeeding.
UPC / Barcode:

837922000043