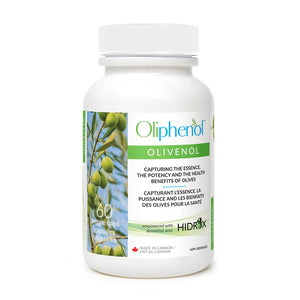 Made from the pulp of organic olives, Oliphenol is a potent and powerful supplement that contains 300x more of the protective polyphenols and other micronutrients than olive oil – without all the fat and calories.
Made from the pulp of organic olives, Oliphenol is a potent and powerful supplement that contains 300x more of the protective polyphenols and other micronutrients than olive oil – without all the fat and calories.
Product Notes:
Capturing the Essence, Potency, and Health Benefits of Olives
Empowered with HIDROX - Oliphenol is a formulation of polyphenols including Hydroxytyrosol and other bioactive ingredients present in pristine, organic olive pulp.
Olive oil is widely regarded as one of the very healthiest dietary fats, but for the calories. But what if we could derive some of the protective effects of a regular intake of pure olive oil – particularly supporting the immune system, improving joint health, and promoting longevity – by extracting several of its most potent factors into a single capsule with almost zero fat or calories? Olivenol does just that.
Health fads come and go, but one – the Mediterranean diet, which is associated with greater life expectancies and quality of life – has not only endured but continued to amass a great deal of scientific support for having protective effects against cardiovascular diseases, inflammation, and other serious health concerns.
One of its hallmarks is a daily consumption of olive oil, which can be recommended for many reasons. But it turns out it's not just the monounsaturated fatty acids comprising nearly 99% of extra virgin olive oil that may be responsible for that.
As with many other plants, as nutritional science has developed, it's been discovered there are other important constituents present in much smaller amounts, which are there to protect the plants and can also benefit those who consume them, in various ways.
In particular, olives contain several polyphenols, including one named hydroxytyrosol (HT, or HXT), which has anti-inflammatory, cardioprotective, and especially antioxidant activities (10 times more potent even than green tea), and has been the subject of an ever-increasing number of scientific studies to gauge its potential impact on age-related diseases.
Consequently, the European Union has permitted a health claim to be made that "Olive oil polyphenols contribute to the protection of blood lipids from oxidative stress" on products which can provides 5 mg of such polyphenols per daily serving, as this one does (a minimum of 12% of the 135 mg of the olive oil material comprising each capsule are polyphenols, which equals 16.2 mg).
Ingredients:
Each capsule contains:
135 mg Olive (Olea europaea, fruit) providing 12% polyphenols
Non-medicinal ingredients: Rice (Oryza sativa) hull powder, silicone dioxide, stearic acid.
Oliphenol uses fresh, all-natural, non-GMO, organic Spanish olives grown in the San Joaquin Valley in California.
This product is made in the USA. It is gluten free, and contains no artificial colors or preservatives.
Suggested Usage:
Adults: Take 1 capsules up to two times daily.
Warnings:
Consult a healthcare practitioner prior to using Oliphenol Olivenol if you are pregnant, breastfeeding or have a kidney disorder or if you are taking diuretics. A diuretic effect may occur.
Health Canada Natural Product Number: 80096062.
Supporting Science:
Angeloni, Cristina et al. "Bioactivity of Olive Oil Phenols in Neuroprotection." International Journal of Molecular Sciences, Oct. 2017.
Bertelli, Matteo et al. "Hydroxytyrosol: A natural compound with promising pharmacological activities." Journal of Biotechnology, Feb. 2020.
Commission Regulation (EU) No 432/2012 of 16 May 2012 establishing a list of permitted health claims made of foods, other than those referring to the reduction of disease risk and to children's development and health. Official Journal of the European Union. 2012, 136:1.
Cordaro Marika et al. "Hidrox® Roles in Neuroprotection: Biochemical Links between Traumatic Brain Injury and Alzheimer's Disease." Antioxidants, May 2021.
D'Amico, Ramona et al. "Hidrox® and Chronic Cystitis: Biochemical Evaluation of Inflammation, Oxidative Stress, and Pain." Antioxidants, June 2021.

Di Rosa, Gabriele et al. "Healthspan Enhancement by Olive Polyphenols in C. elegans Wild Type and Parkinson's Models." International Journal of Molecular Sciences, May 2020.
EFSA [European Food & Safety Authority] Panel on Dietetic Products, Nutrition and Allergies (NDA). "Scientific Opinion on the substantiation of a health claim related to polyphenols in olive and maintenance of normal blood HDL cholesterol concentrations (ID 1639, further assessment) pursuant to Article 13 (1) of Regulation (EC) No 1924/2006." EFSA Journal 10.8, 2012).
Marcelino, Gabriela et al. "Effects of Olive Oil and Its Minor Components on Cardiovascular Diseases, Inflammation, and Gut Microbiota." Nutrients, Aug. 2019.

Romani, Annalisa et al. "Health Effects of Phenolic Compounds Found in Extra-Virgin Olive Oil, By-Products, and Leaf of Olea europaea L." Nutrients, Aug. 2019.
UPC / Barcode:

627987689426