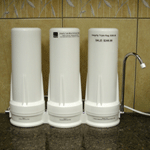 Info: 3 Filter, 4 Stage Countertop Water Purifier
The Integrity Advantage Triple Chloramine Redox system provides great tasting, ultra-pure fluoride and chloramine free mineral water in a three-compartment countertop water filtration system. It is designed for those who live in condominiums, apartments or rental homes where permanent water filtration systems cannot be installed, or for those who want a portable solution (if you may be moving, or would like to use it in more than one location), and whose water supplies are being treated with chloramine.*
Product Notes:
No plumbing or drilling is required to install it; simply use the included diverter valve shown below to tap into your existing faucet to send the water over to the filtration unit when you want it purified, and the system comes with its own built-in spout to dispense the clean drinking, food preparation, or cooking water whenever you want.
* If your municipality has not switched to chloramine and still uses chlorine to treat the city's water supply, please see the corresponding Integrity Advantage Triple System in our Chlorinated Water Systems category, instead.
Download the Installation Guide (PDF)
3 year limited warranty if the 1 micron pleated pre-filter is changed every six months (or more if required), and the fluoride and 1 micron catalytic carbon filters are changed annually, as specified.
Available Integrity Triple Replacement Filters:

Stage 1 - 0.35-micron pleated pre-filter (store code 2100) -- replace every six months. Two are included with initial purchase.

Stage 2 - Bone Char fluoride removal filter (17800) -- replace every year.

Stage 3 & 4 - 1 micron catalytic carbon chlorine and chloramine filter (10616) -- replace every year.
Full Annual Replacement Filter Kits are available, as well (21406).
ANNUAL COST OF OPERATION:  $220 (details below)
---
The Integrity Triple is our lowest cost system that includes a 0.35 micron sediment pre-filter, a fluoride removal filter using the latest in bone char media, and a final 1 micron carbon filter to remove chlorine and chloramines.
INCLUDED COMPONENTS:
• Triple 10" countertop filter housing.
• 10" 0.35 Micron Pleated Pre-Filter. (Stage 1)
• 10" bone char fluoride and arsenic removal filter. (Stage 2)
• 10" 1 micron catalytic carbon filter to remove the chlorine or chloramine your municipality adds, and remove tastes and odors (Stage 3 & 4)
• Diverter valve for connection to a standard water faucet.
• Integrated Chrome Lead Free Faucet.
Stage 1: Pre-Filter
This filter is designed to remove dirt, rust, sediment, plus some cysts and pathogens and other contaminants, and to prevent these contaminants from affecting the efficiency and longevity of the two stage 1 micron catalytic carbon filter (in Stages 3 & 4), and the bone char fluoride filter (in Stage 2). In normal use replace every 6-12 months. If the water flow at the faucet drops significantly, it is time to replace this filter. Two are supplied with purchase, which should last a total of one year in normal operation.
Stage 2: Fluoride Filtration
Bone Char provides effective removal of fluoride and arsenic by adsorption.
Stage 3 & 4: This dual stage filter is the rightmost vertical stage of the unit, and consists of a 1 micron catalytic carbon filter that removes fine particles (Stage 3) and removes chlorine, chloramine, and tastes and odors. (Stage 4)
ANNUAL COST OF OPERATION: $220.00
MONTHLY COST OF OPERATION: $18.33
WEEKLY COST OF OPERATION: $4.23
DAILY COST OF OPERATION: $0.60
COST PER GALLON: $0.12 PER GALLON (2.7 CENTS PER LITRE)
(ALL BASED ON 5 GALLONS PER DAY)
Unfortunately, OPUS water filters and water systems no longer qualify for free shipping due to their size and weight; our Shipping Department will follow-up with a quote before proceeding with the order.