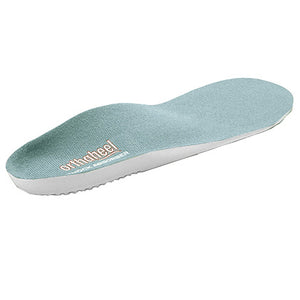 Info: Unisex; Available only in XS Size; Limited Quantity Remaining
Info: Unisex; Available only in XS Size; Limited Quantity Remaining
Using high-energy shock-absorbing polyurethane technology, this ORTHAHEEL model is designed to give a maximum amount of shock absorption during high-impact activities such as running, cross training, or court sports. It features a cushioned full length (from heel to forefoot) insert, for added shock absorption.
Product Notes:
Are your feet getting quite sore when you go for a run or a long walk or have a game of tennis, even if your posture and gait are pretty good? Chances are, it's just due to normal aging processes such as a reduction of the fatty pads that cushion them, and of the thickness and elasticity of our skin and tendons (since we produce less collagen starting in our mid-20s). But don't let that deter you from staying active: you can quite literally recover the spring in your step with these shock-absorbing insoles.
These inserts provide the greatest amount of cushioning to absorb impact of all the Orthaheel insoles, while still incorporating Tri Planar Motion Control technology to provide a slight amount of orthotic support to counteract pronation and encourage the foot to stay in the neutral position. As a full-length insert, they can only really be fitted into shoes which have removable insoles, but can be trimmed to fit a wide variety of both men's and women's shoes which can have their original insoles taken out.

Like all Vionic/Orthaheel orthotics, it features an anatomical design with a contoured arch and rearfoot control with a deep heel cup, to ensure 100% proprioceptive contact and provide some motion control to reduce excess pronation, and an odor- absorbing cover featuring EcoFresh (which has anti-bacterial properties). However, its softer rear foot wedge provides a relatively low level of control for over-pronation, making it a good introductory model for those who have never worn supportive orthotics before, as an easy way of getting used to an orthotic correction.
UPC / Barcode:

616542011321