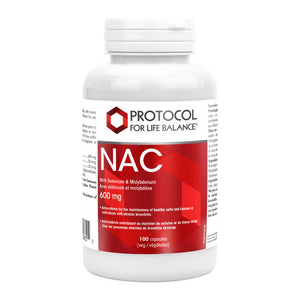 Info: 100 Capsules; 600 mg Strength (with 2 Co-Factors)
This item is temporarily unavailable from the manufacturer. Related Products: Please see AOR N-A-C, NOW NAC, and Pure Encapsulations NAC. Not looking for capsules? See Canadian Protein's NAC Powder.
NAC (N-Acetyl Cysteine) is a type of amino acid with well-established anti-inflammatory, antioxidant, and immunomodulating properties which may be especially useful in reducing the course or severity of respiratory conditions such as chronic bronchitis.
Product Notes:
Some of NAC's uses are as a detoxification agent and to protect the liver; and to help reduce the course or severity of chronic bronchitis – the main purpose the manufacturer recommends this version for.
The NAC in this Protocol for Life Balance formula has also been fortified with molybdenum and selenium, two essential trace minerals which not only enhance NAC's antioxidant potential, but can help facilitate glutathione production and reduce some of the symptoms of Candida albicans. Combined with Glycine, NAC forms an amino acid compound marketed as GlyNAC.
Ingredients:
Each capsule contains:
N-Acetyl Cysteine: 600 mg
Molybdenum (from Sodium Molybdate): 50 mcg
Selenium (as L-Selenomethionine): 25 mcg
Non-medicinal ingredients: Veg. Capsule (hypromellose, water), Stearic Acid (vegetable source) and Citric Acid.
This is both a vegan and a vegetarian formula. Non-GMO.
Suggested Usage:
Adults: take 1 capsule daily, with meals providing protein. Consult a healthcare practitioner for use beyond 6 months. Store in a cool, dry place.
Warnings:
Do not use Protocol for Life Balance NAC if you suffer from cystinuria/cystine kidney stones, or if you are pregnant or breastfeeding. Consult a healthcare practitioner prior to using N-acetylcysteine if you are taking nitroglycerin, acetaminophen, iron supplements, or if you have gout.
Health Canada Natural Product Number: 80006038.
UPC / Barcode:

707359100855