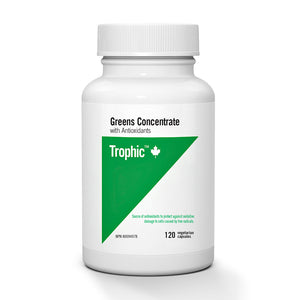 Info: 120 Vegetarian Capsules
This product is temporarily unavailable from the manufacturer; please see a selection of other green food supplements.
To help protect your cells and DNA from harmful damage done by free radicals while also promoting the optimal functioning of your immune system, Trophic's Greens Concentrate with Antioxidants provides a blend of eight types of highly bioavailable superfood ingredients in a convenient capsule format.

Product Notes:
Stress, lack of sleep, improper eating, and not enough exercise can all take their toll on the body and contribute to diseases. To help those who don't always have the time to shop or eat right combat oxidative stress throughout the body with nutrients that can also support energy levels and immune function, this formula combines highly concentrated  amounts of several types of protein-, vitamin-, and antioxidant-rich marine foods (Chlorella, Spirulina, and Kelp); fruits (blueberries, acerola, and pomegranate); and vegetables and flowering plants (broccoli, beets, and turmeric)... plus one friendly mould (to supply Beta Carotene, to help protect the eyes).
Ingredients:
333 mg Spirulina (Arthrospira platensis) (whole organism)
555 mcg Beta Carotene (from Blakeslea trispora)
66 mg Organic Broccoli (Brassica oleracea var. italica)
33 mg Organic Turmeric (Curcuma longa) rhizome
33 mg Blueberry (Vaccinium corymbosum) (fruit)
33 mg Red Beet (Beta vulgaris) (fruit)
33 mg Chlorella (Chlorella vulgaris) (broken cell)
22 mg Japanese Kelp Thallus Extract (Laminaria japonica L.) (10-15:1, 220-300 mg dried equivalent)
16 mg Acerola Fruit Extract (Malpighia glabra L.) (12.5:1, 200 mg fresh equivalent)
16 mg Pomegranate (Punica granatum) (fruit)
Non-medicinal ingredients: Hypromellose (capsule), silica, magnesium stearate, and cellulose.
Contains no added wheat, soy, diary, artificial colours or flavours, or animal products.
Suggested Usage:
Adults: take 2 capsules daily or as recommended by a healthcare practitioner. Consult a healthcare practitioner for use beyond 3 months.
Store in a cool, dry place, away from children.
Warnings:
Consult a healthcare practitioner prior to using Trophic Greens Concentrate if you are pregnant or breastfeeding; or if you are taking blood thinners; or if you have gallstones, a bile duct obstruction, stomach ulcers, or excess stomach acid. Stop use if allergy occur.
Health Canada Natural Product Number: 80094978.
UPC / Barcode:

069967122514