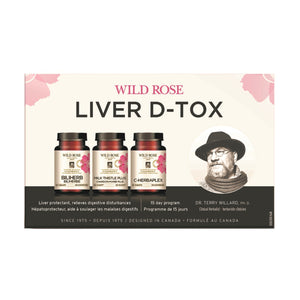 Info: Easy 15-Day Program, 3 Products Included
The Liver D-Tox Program is a set of three natural herbal products specially designed to work together to gently stimulate the liver's production of bile (the fluid the liver secretes to help digestion and to carry away wastes), and to help protect the liver itself.
This kit is currently unavailable from the manufacturer; please see a selection of other liver support products.
Product Notes:
This easy 15-day detox program from Wild Rose (which entails taking all three types of supplements twice a day with meals) takes just 15 days to complete, and includes a Meal Plan with dietary recommendations to enhance its effectiveness.
Our hearts and brains seem to get all the praise and glory, leaving our liver as something of an unsung hero. Of course, many of us know that it helps our digestion by breaking down fats, and also metabolizes alcohol or other drugs, and helps eliminate wastes. But the liver does so much more: it processes all the blood leaving the stomach and intestines to further break down and balance its nutrients (or even to store or release them, for glucose and iron); regulates most chemical levels in our blood; produces certain proteins for blood plasma, and others to help carry fat molecules through the body; regulates blood clotting; and helps us resist infections by removing bacteria and producing immune factors; and literally hundreds of other functions. But our livers can become overburdened by our modern diet and lifestyle, leading to a build-up of toxins and waste in our bodies.
This product has been called / sold as both Wild Rose Liv-Rejuv and Wild Rose Liver D-Tox. The three herbal products included in it are: Biliherb; Milk Thistle Plus; and C-Herbaplex.
Biliherb features Black Radish Root, which Radish has traditionally been used for its ability to stimulate the production of bile, in a base of supportive herbs.
Milk Thistle Plus features that well-known liver protectant which research indicates has a unique ability to protect and support proper liver function.
For antioxidant support, C-Herbaplex provides Vitamin C in a base of naturally-occurring bioflavonoids along with Parsley, Red Raspberry and Mullein leaves.
Related Product: Also see Wild Rose Herbal D-Tox Kit.
Liver D-Tox Ingredients:
Biliherb (NPN 00664316); 60 tablets; each tablet contains:
Black radish root (Raphanus sativus): 109.0 mg
Barberry root bark (Berberis vulgaris): 72.7 mg
Dandelion root (Taraxacum officinale): 36.4 mg
Non-medicinal ingredients:
Parsley root (Petroselinum crispum): 36.4 mg
Marshmallow root (Althaea officinalis): 36.4 mg
Ginger root (Zingiber officinale): 36.4 mg
Cramp bark (Viburnum opulus) bark: 36.4 mg
Wood betony herb (Stachys officinalis): 36.4 mg
Dibasic calcium phosphate dihydrate, croscarmellose sodium, microcrystalline cellulose, silicon dioxide, vegetable stearine, magnesium stearate (vegetable source), coating solution.
Milk Thistle Plus (NPN 80039089), 60 veg. capsules; each veg. capsule contains:
Milk thistle seeds, GP 80% silymarin (Silybum marianum): 125 mg
Dandelion root (Taraxacum officinale): 85 mg
Black radish root (Raphanus sativus): 60 mg
Ginger root (Zingiber officinale): 60 mg
Burdock root (Arctium lappa): 60 mg
Parsley root (Petroselinum crispum): 35 mg
(GP = guaranteed potency)
Non-medicinal ingredients: Hypromellose, magnesium stearate (vegetable source)
C-Herbaplex (NPN 00554847), 30 tablets; each tablet contains:
Vitamin C (ascorbic acid): 500 mg
Non-medicinal ingredients:
Lemon fruit (Citrus limon) (50% bioflavonoids): 250 mg
Rose hips (Rosa canina): 250 mg
Hesperidin (from Citrus sinensis): 50 mg
Rutin (from Sophora japonica): 50 mg
Parsley leaf (Petroselinum crispum): 8.5 mg
Red raspberry leaf (Rubus idaeus): 8.5 mg
Mullein leaf (Verbascum thapsus): 2 mg
Microcrystalline cellulose, hyprolose, croscarmellose sodium, magnesium stearate, silica.
Suggested Usage:
Adults: take 2 Biliherb tablets, two times a day; 2 Milk Thistle Plus Vcaps two times a day; and 1 C-Herbaplex tablets twice a day; for a total of 15-days. Take each type of these supplements with water just before or during meals, or as recommended by your healthcare practitioner.
Warnings:
Do not use if you are pregnant or breastfeeding; if you have heart disease, kidney-related disorder, high or low blood pressure, liver or gall bladder disorder, bowel obstruction, diabetes or edema; if you are taking products containing diuretics; or if you are allergic to plants of the Asteraceae/ Compositae/ Daisy family. If symptoms persist or worsen, consult a healthcare practitioner. Stop use and seek medical attention immediately if you experience dizziness, confusion, muscle weakness or pain, abnormal heart beat and/or difficulty breathing. Discontinue use if you develop symptoms of liver trouble. Hypersensitivity, such as an allergy, has been known to occur; in which case, discontinue use. If you experience any other adverse effects to any of the products in the Liver D-Tox Program, discontinue taking them and consult your healthcare practitioner.
UPC / Barcode:

776521174710