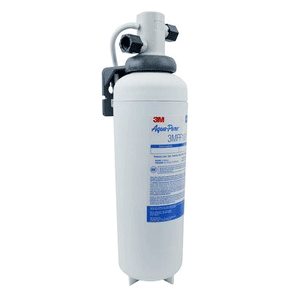 Info: FF100 Full Flow Drinking Water System
Info: FF100 Full Flow Drinking Water System
The Full Flow Drinking Water System FF100 (0.5 Micron) by 3M Aqua-Pure has a large capacity (up to 6,000 gallons before needing a replacement cartridge) and works with your existing kitchen faucet, for a strong flow (of up to 2.5 gallons per minute) to reduce sediment, chlorine taste and odor, lead, parasitic protozoan cysts, benzene, toxaphene, and P-Dichlorobenzene, particulate class 1. NSF-certified.
S&H included to most locations in Canada.
Product Notes:
• 2.5 GPM allows filter system to be used on existing kitchen and /or both faucets
• 3/8" NPT connections on filter head makes installation easy
• Shut off valve in head eliminates the need to turn off water supply
• Sanitary quick change design helps eliminate the need to handle filter media
• Easy filter change-outs, just a 1/4 turn to remove and insert
• Designed to connect to your existing primary kitchen or bath faucet for full flow filtration, providing a clean look on your counter
• This system reduces CTO, sediment, and a number of select VOC's (Benzene, P-Dichlorobenzene & Toxaphene), as well as lead and 99.95% of filterable parasitic protozoan cysts from your cold water supply delivered right to the sink.
The product label may look slightly different from the one shown.
Warnings:
Do not use with water that is microbiologically unsafe or of unknown quality without adequate disinfection before or after the system.
Caution: To reduce the risk of property damage due to water leakage you must read and follow installation and use instructions before installation and use of this product. The disposable litter cartridge must be replaced every 12 months, at the rated capacity or sooner if a noticeable reduction in flow rate occurs.
UPC / Barcode:

016145233111