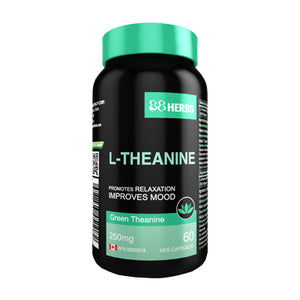 Info: 60 Veg. Capsules (250 mg Each)
Green Theanine - Promotes relaxation and improves mood.
Info: 60 Veg. Capsules (250 mg Each)
Green Theanine - Promotes relaxation and improves mood.
Product Notes:
In addition to reducing stress and anxiety without inducing drowsiness (including by attenuating the increases in blood pressure and other physiological stress signals you might otherwise have during stressful situations), L-Theanine can also help sharpen your mental focus and concentration and improve your mood during your waking hours, as well as help produce a better quality, more restful sleep.
Virtually all of us are subjected to some type of psychological, socio-economic, or work-related related stress which can take a severe toll on our health or relationships. We may be tempted to seek out anti-anxiety medication, but prescription "anxiolytic" drugs tend to produce drowsiness and cause dependency. L-Theanine doesn't, even though it seems to work partly the same way benzodiazepines do: by increasing the effectiveness of our body's main inhibitory neurotransmitter, GABA.
L-Theanine increases the brain's alpha wave activity, the type most active during REM sleep, or which Buddhist monks can achieve during peak states of deep meditation. All this from a natural component of green tea – except purified and concentrated to a quickly absorbable form in about 12 times the dose you'd get from a single cup of tea.
Ingredients:
Each capsule contains:
250 mg L-Theanine Pure Theanine (N-Ethyl-L-glutamine)
Non-medicinal ingredients: Cellulose, Hypromellose, Silicon dioxide.
This is part of 88 Herbs trademarked "Zero Series," which use absolutely 0 magnesium stearate, animal products and gelatins; allergenic materials, or additives.
Suggested Usage:
Adults: Take 1 capsule per day.
Warnings:
Risk Information: None available.
Health Canada Natural Product Number: 80050919.
Supporting Science:
Hidese, Shinsuke et al. "Effects of L-Theanine Administration on Stress-Related Symptoms and Cognitive Functions in Healthy Adults: A Randomized Controlled Trial." Nutrients, Oct. 2019.
Lopes Sakamoto, Filipe et al. "Psychotropic effects of L-theanine and its clinical properties: From the management of anxiety and stress to a potential use in schizophrenia." Pharmacological Research, Aug. 2019.
Lu K, et. al. "The acute effects of L-theanine in comparison with alprazolam on anticipatory anxiety in humans." Human Psychopharmacology, Oct. 2004.
Lyon MR, et al. "The effects of L-theanine (Suntheanine®) on objective sleep quality in boys with attention deficit hyperactivity disorder (ADHD): a randomized, double-blind, placebo-controlled clinical trial." Alternative Medicine Review, Dec. 2011.
Williams, Jackson L et al. "The Effects of Green Tea Amino Acid L-Theanine Consumption on the Ability to Manage Stress and Anxiety Levels: a Systematic Review." Plant Foods for Human Nutrition (Dordrecht, Netherlands), March 2020.
UPC / Barcode:

627843451082