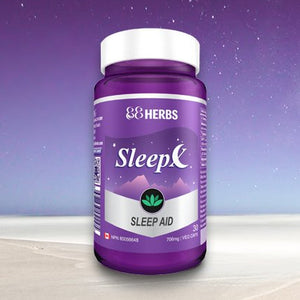 In addition to helping with insomnia, the natural ingredients in SleepX from 88Herbs can also help you adapt to jet-lag or shift work.
In addition to helping with insomnia, the natural ingredients in SleepX from 88Herbs can also help you adapt to jet-lag or shift work.
Product Notes:
88Herbs designed this formulation of herbs, hormones (in melatonin's case) and vitamin and mineral co-factors as a synergistic combination to give it the best chance of working on each aspect of a good sleep for most people: falling asleep easily; staying asleep throughout the night; enjoying deep REM sleep (without experiencing nightmares); and waking up feeling refreshed (without grogginess).
More: Read The Blue Light Switch for Improved Sleep from Nathan Zassman.
Notes on Individual Ingredients
Melatonin is the hormone which humans and many animals produce when it gets dark to help get to sleep. There is enough premium grade, animal-derived melatonin in this to help most people fall asleep quickly with just one pill (although two may be required depending on what else is in your system).
L-Theanine is the amino acid contained in green tea which enables it to have a calming effect for many people, despite the caffeine (which is not present in the L-Theanine itself). It appears to increase either the effectiveness or production of GABA (Gamma-Amino-Butyric Acid), which inhibits or limits neural activity in the brain, to induce relaxation, and it does so quite quickly after ingesting it, since it crosses the blood-brain barrier easily.
5-Hydroxy-Tryptophan (5-HTP) is derived from Griffonia seeds (a tropical shrub native to West Africa), and functions as an immediate precursor to producing the neurotransmitter serotonin, which has a positive role in mood. (Many anti-anxiety and anti-depressant formulations attempt to produce more of it or prolong its activity, to help people feel happier or more optimistic.) Although it can be more energizing in higher doses, it can produce a pleasant sleepy feeling in the moderate dose offered here.
Passion Flower is indeed a flower, which has been extensively used and studied as an herbal medicine for improving the quality sleep, fighting anxiety, and relaxing muscles. It also appears to increase GABA activity or production, but not the same way L-Theanine does, so they can complement one another. The type used here has been standardized to contain 20% of its main active ingredient, flavones, compared to 4% or less in many rival products.
L-Tryptophan is an amino acid found in some fish and meat (such as turkey) which can help people stay asleep throughout the night without feeling groggy when they wake up.
Vitamin B3 is a B-complex vitamin with many roles, including helping us relax and get to sleep quickly. Sleep-X uses the niacinamide form of it, which can be absorbed up to times better than some other types.
The mineral Magnesium also helps us relax, both in the mind via the GABA system and in all the muscles of the body, especially when combined with the above ingredients. The form used here, non-buffered magnesium bisglycinate, has the highest absorption available in the natural supplement market.
Ingredients:
Each 88 Herbs Sleep-X capsule contains:
Melatonin (N-acetyl-5-methoxytryptamine, from non-human animals non-susceptible to TSE - pineal gland): 1.5 mg
L-Theanine (N-ethyl-L-glutamine): 125 mg
Passion Flower (Passiflora incarnata, Herb) (4:1 Extract, DHE: 1000 mg Dry, standardized to 20% Bioflavonoids): 250 mg
Tryptophan (L-Tryptophan): 100 mg
5-HTP 30:1 (L-5-Hydroxytryptophan, 5-HTP, Griffonia simplicifolia - Seed): 25 mg
Magnesium Bisglycinate (standardized to 10% Mg): 200 mg (providing 20 mg of elemental magnesium)
Vitamin B-3 (Niacinamide, 3-Pyridinecarboxamide): 4.5 mg
Non-medicinal ingredients: Microcrystalline cellulose, Hypromellose, Silicon dioxide.
Suggested Usage:
Adults: Take 1 or 2 Capsules once per day, at or before bedtime. While travelling and at the destination, take once a day at the new bedtime until the new sleep pattern becomes routine. Do not drive or use machinery for 5 hours after taking this product.
Warnings:
Do not use if you are pregnant or breastfeeding, or if you have scleroderma.
Consumption with alcohol, other drugs or natural health products with sedative properties is not recommended.
Consult a healthcare practitioner prior to use if you have benign prostate hypertrophy and/or prostate cancer; or if you have asthma, cardiovascular disease, kidney disease, depression, diabetes or hypoglycaemia, hormonal disorder, immune system disease, liver disease, migraines, and/or seizure disorders; or if you are taking anticoagulant, anticonvulsant, blood pressure, immunosuppressive, sedative, hypnotic or psychotropic medications and/or steroids; or if you are taking carbidopa or drugs/supplements with serotonergic activity (which may include, but are not limited to, L-tryptophan, S-adenosylmethionine (SAMe), St. John's wort, antidepressants, pain killers, over the counter cough and cold medication containing dextromethorphan, anti-nausea medication and anti-migraine medication.
Discontinue use and consult a healthcare practitioner if you show signs of weakness, oral ulcers, or abdominal pain accompanied by severe muscle pain or if you experience skin changes. If symptoms persist for more than 4 weeks (chronic insomnia), consult your healthcare practitioner.
Some people may experience drowsiness. Exercise caution if operating heavy machinery, driving a motor vehicle or involved in activities requiring mental alertness.
Some people may experience diarrhea, nausea, vomiting and abdominal pain, in which case, discontinue use. Rare allergic reactions have been known to occur; in which case, discontinue use.
Health Canada Natural Product Number: 80056648.
UPC / Barcode:

627843451105