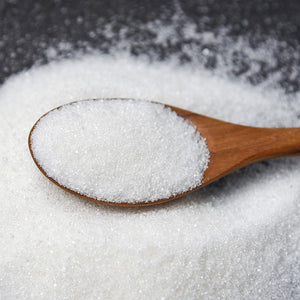 Info: Not Currently Approved for Sale
Product Notes:
Absorbed but not metabolized by the body, allulose has been attracting interest from those looking for low-glycemic/low-calorie sweeteners, including diabetics and people who follow a ketogenic diet.
Availability - Is Allulose Banned in Canada?
It's not banned, but has yet to be approved. Allulose has been determined to be a novel food ingredient under Health Canada's Food and Drug Regulations due to its limited history of use in food. Novel foods must first undergo a pre-market safety assessment before they can be sold in Canada.
Health Canada maintains a list of permitted sweeteners and their use conditions. There is currently no timetable for any allulose product's release in Canada.
Alluose is available in the USA, considered 'generally recognized as safe' by the US Food and Drug Administration. It has not been approved for sale in the European Union.
But I've seen it for sale in Canada!
It may be available from some sellers, but it's not yet approved for sale here by Health Canada. Offerings you see will generally not have bilingual/Canadian packaging; they're usually imported (or shipped directly) from the USA.
Related Reading
* Stevia: Nature's Low Glycemic Gift to Civilization