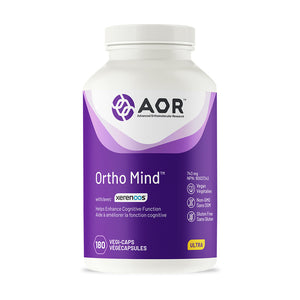 Info: 180 Vegi-Caps (743 mg Each)
An advanced formula for cognitive enhancement, Ortho-Mind contains many ingredients that help to enhance cognitive function and memory in adults, as well as reduce mental fatigue in cases of mental stress.

Info: 180 Vegi-Caps (743 mg Each)
An advanced formula for cognitive enhancement, Ortho-Mind contains many ingredients that help to enhance cognitive function and memory in adults, as well as reduce mental fatigue in cases of mental stress.

Product Notes:
Ortho Mind contains antioxidants and other factors that contribute to the maintenance of good health. AOR's most advanced cognitive support formula, OrthoMind is designed for peak mental performance, featuring nutrients and botanicals with neuroprotective effects and which support cerebral metabolism, microcirculation, neurotransmitter function, neural membrane structure, focus, mental energy, vigilance, and memory function, at dosages documented in controlled clinical studies in humans.
Ortho Mind is designed to support cognition and contains ingredients that potentiate each other in doses supported by clinical research. Ortho•Mind improves memory and enhances the ability to process, consolidate and learn new information. But above all, Ortho•Mind supports the ability to think ... need we say more?
R-alpha-lipoic acid
R-alpha-lipoic acid is needed by the mitochondria, or cellular "power plants," which drive nerve cell metabolism. R-alpha-lipoic acid helps improve the efficiency of mitochondrial function, while preventing the age-related increase in free radical production. R-alpha-lipoic acid has also been shown to reverse the buildup with age of iron in the brain, which is associated with neurological disorders. One study supports the use of lipoic acid in Alzheimer's disease.
Citicoline
Citicoline is not just a source of choline, the main building block of the neurotransmitter acetylcholine, but is also a brain phospholipid booster. Phospholipids are essential components of neural membranes, and their presence is needed for the normal responsiveness of the brain to neurotransmitter signals. Citicoline enhances the brain's ability to synthesize its own phospholipids. As a result, Citicoline increases levels of all phospholipids in neural membranes without altering the normal, youthful proportions of the various phospholipids. Citicoline also increases the manufacture or release of key neurotransmitters, including acetylcholine, norepinephrine, dopamine, and serotonin.
Citicoline provides effective nutritional support in a wide range of cognitive disorders, including Alzheimer's disease, stroke, and dementia associated with Parkinson's disease, and head trauma. Citicoline can also significantly improve memory function in persons with "normal" age-related cognitive decline.
Bacopa monnieri
An herb long revered in Ayurvedic tradition, Bacopa monnieri has been studied for its effects on cognitive-enhancement in children. Studies have also shown it to be helpful in relieving anxiety. One trial found that men and women supplementing with Bacopa showed significant improvements in cognitive function, with improvements in processing visual information, a greater rate of learning and a lower rate of forgetting verbal information, and a greater ability to consolidate new information.
L-Pyroglutamic acid
L-Pyroglutamic acid from L-Arginine-L-Pyroglutamic Acid, is the so-called "forgotten amino acid," and is the natural molecule behind the nootropic drugs, such as piracetam, oxiracetam, and pramiracetam: these drugs are chemically "tweaked" versions of L-Pyroglutamic Acid. The nootropics' ability to improve learning, memory consolidation, and retrieval in normal, healthy people has been well established in clinical trials. These effects are also seen with L-Pyroglutamic Acid.
ALCAR
A unique form of energy production supporting L-carnitine that's much better at being able to cross the blood-brain barrier to help enhance cognitive function. Research indicates that ALCAR can help reduce the symptoms of mild cognitive impairment by improving attention, memory, mood, and more.
Ginseng
Lastly, Panax ginseng is very well known for its cognitive boosting powers. For example, in one study including 97 Alzheimer's patients it was found that taking 4.5 g of ginseng powder for 12 weeks significantly improved cognitive function in the patients. Furthermore, the combination of Panax ginseng has been shown to significantly improve memory.
Please note, these capsules are now purple in colour, due to the addition of carrot root powder.
Ortho Mind Ingredients:
A full 6 Capsule Serving Contains:
R-Alpha-Lipoic Acid (sodium salt)*: 100 mg
Panax ginseng extract: 100 mg
Bacopa monnieri extract (50% bacosides A&B): 300 mg
ALCAR (Acetyl-L-carnitine): 1500 mg
Xerenoos (citicoline): 500 mg
Arginine Pyroglutamate: 1500 mg
Pantothenic Acid (from Calcium d-Pantothenate): 460 mg
Non-medicinal ingredients:  Capsule: carrot root powder, hypromellose.
Vegan. Gluten-Free. Non-GMO.
* contains 11 mg of sodium per serving.
XERENOOS® is a trademark of INTERQUIM, S.A d.b.a Ferrer Healthtech
Suggested Usage:
Adults: Take 2 capsules three times daily without food, or as directed by a qualified healthcare practitioner. Consult a healthcare practitioner for use beyond two months -- or beyond 6 weeks, if you have a cardiovascular condition.
The former directions were as follows: "The nutrients in Ortho•Mind potentiate one another to create an "inverted 'U'" response pattern. The optimal dosage is highly variable from one individual to the next. Begin with one capsule daily on an empty stomach, and increase to personal optimal level. For most people, peak results will be achieved at six capsules daily."
Warnings:
Do not use AOR Ortho-Mind if you are pregnant or nursing, or if you have had a heart attack/myocardial infarction, or if you have primary systemic L-carnitine deficiency or secondary L-carnitine deficiency (inborn errors of metabolism) for which supplementation is prescribed/monitored by a healthcare practitioner.
Consult a health care practitioner prior to use if you have diabetes; or if you have cardiovascular disease and are attempting to increase physical activity; or if have renal/kidney disease or are following a low protein diet; or if are taking blood thinners, digoxin, antidepressant medications, or medications for cardiovascular diseases or erectile dysfunction; or if you have celiac disease, fat malabsorption and Vitamin A, D, E deficiency.
Consult a health care practitioner if your cardiovascular condition worsens.
Some people may experience insomnia, anxiety, or headaches, in which case, discontinue use. May cause nausea, dry mouth and fatigue. Some people may experience gastrointestinal discomfort (such as diarrhea). Hypersensitivity (allergy) may occur. Use with caution if you have allergies to members of the Scrophulariaceae (figwort) family.
Health Canada Natural Product Number: 80037243.
UPC / Barcode:

624917042801