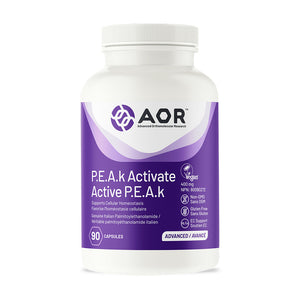 Info: 90 Capsules - 400mg Each

The first P.E.A. supplement licensed in Canada designed to help relieve chronic pain and inflammation.
Info: 90 Capsules - 400mg Each

The first P.E.A. supplement licensed in Canada designed to help relieve chronic pain and inflammation.
Product Notes:
The Multiple Target Molecule - A Key Player in the Endocannabinoid System
A unique fatty acid that can be found in eggs and a variety of plant sources, and which is also produced endogenously (within our own bodies), Palmitoyl-ethanol-amide (PEA) plays an important role in the body's systematic response to pain and inflammation.
Palmitoylethanolamide (P.E.A.) is an endocannabinoid-like molecule which our bodies produce as needed to deal with bodily stress, injury, or infection. It serves as part of the Endocannabinoid System (ECS): a complex communication network or cell-signaling system throughout our bodies which helps regulate a variety of functions, including protecting nerve cells, preventing arthritis and cardiovascular disease, and countering inflammation (wherever it may occur, whether in the joints, the brain, or the bowels).
Is PEA a cannabinoid?
Although P.E.A itself shares many of the same functions as the phytocannabinoids in CBD (which is derived from cannabis oil), it is produced naturally by most mammals, so it receives a different medical and legal classification.
Some common food sources of PEA include milk, peas, tomatoes, corn, soybeans, soy lecithin, and peanuts. This supplementary form developed by AOR (Advanced Orthomolecular Research) is chemically identical [N-(2-Hydroxyethyl)hexadecanamide] to the natural mammalian form, and is derived from Malaysian palm oil, ethically sourced from one of the only certified and guaranteed sustainable producers in the world.
PEA products available in other markets including peaCURE, OptiPEA, Mirica, Normast, Pelvilenand, and PEApure are not currently licensed for sale in Canada. AOR P.E.A.k Activate is the first Palmitoylethanolamide product to be issued a Health Canada Natural Product Number (NPN): 80090272. This formula was previously marketed as 'AOR PEA Activate' (or P.E.A Activate)
Related Reading: Improving Health by Reducing Inflammation * Natural Solutions for Tendonitis and Inflammation
Related Products: See PEAk Pain Relief and PEAk Antioxidant Support.
AOR P.E.A.k Activate Ingredients:
400 mg Palmitoylethanolamide (P.E.A.)* per capsule, micronized; from a Genuine Italian source.
Non-medicinal ingredients:
PEA capsules contain no non-medicinal ingredients except for hypromellose (which is what the capsule itself is made of).
Vegan. Non-GMO. Gluten-free. Also contains no: wheat, corn, nuts, peanuts, sesame seeds, sulphites, mustard, soy, dairy, eggs, fish, shellfish, or animal byproducts.
Suggested Usage:
Capsules: Adults: Take 1 capsule 3 times daily, either with or without food, or as directed by a healthcare practitioner.
Lozenges: Adults: Either chew, dissolve, or swallow one lozenge two times a day, either with or without food, or as directed by a healthcare practitioner
Consult your healthcare practitioner for use beyond 40 days.
Warnings:
Consult a healthcare practitioner prior to use if you are pregnant or breastfeeding. Consult a healthcare practitioner if symptoms persist or worsen.
PEA side effects/contraindications: none listed.
Supporting Science for Pain Relief:
The effectiveness of Advanced P.E.A. has been demonstrated in multiple clinical studies which have shown that 600 mg every day for three weeks significantly improved the comfort and quality of life of 636 patients.
P.E.A and Pain
A 2017 meta-analysis investigated the efficacy of P.E.A for pain relief. Eight randomized controlled trials accounting for 743 patients receiving PEA and 460 patients given either placebo or no treatment showed a significantly greater pain reduction in those given PEA. Daily dosages ranged from 300mg to 1200mg, and treatment duration ranged from 10 to 180 days. Interestingly, there was no association between longer treatment durations and pain efficacy.
The authors found one trial that compared 2 weeks of use of P.E.A. versus ibuprofen in 24 patients with arthritis of the TMJ (temporomandibular joint). Patients given PEA has significantly decreased pain compared to those given ibuprofen. Ibuprofen treatment also resulted in 3 patients to have the side effect of a stomach ache, compared the PEA group which reported no side effects.
Study: "Efficacy of Palmitoylethanolamide for Pain: A Meta-Analysis," Pain Physician, 2017.
Other research has examined PEA use for neuroinflammation, Type II diabetic neuropathy, providing analgesia and neuroprotection related to chemotherapy, as well as immune system support for upper respiratory tract infections. E.g., see "Micronized palmitoylethanolamide reduces the symptoms of neuropathic pain in diabetic patients," Pain Research and Treatment, 2014.
Additional Supporting Science:
Clayton, Paul et al. "Palmitoylethanolamide: A Natural Compound for Health Management." International Journal of Molecular Sciences, 2021.
Kiani, Aysha Karim et al. "Dietary supplements for intestinal inflammation." Journal of Preventive Medicine and Hygiene, 2022.
Landolfo, Eugenia et al. "Effects of Palmitoylethanolamide on Neurodegenerative Diseases: A Review from Rodents to Humans." Biomolecules, 2022.
UPC / Barcode:

624917044225