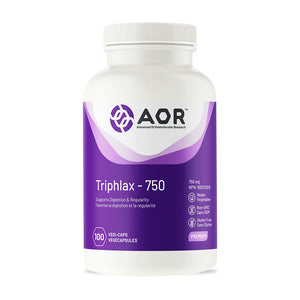 Info: 100 Vegi-Capsules / 750 mg
TriphLax-750 (Triphala) is a natural and time-tested remedy that promotes regularity, purifies the blood, as well as supports digestion and a healthy GI tract.
Info: 100 Vegi-Capsules / 750 mg
TriphLax-750 (Triphala) is a natural and time-tested remedy that promotes regularity, purifies the blood, as well as supports digestion and a healthy GI tract.
Product Notes:
Triphala, consists of three traditional ingredients used in Ayurvedic medicine for colonic detoxification (among other things): Emblica officinalis ("Amla"), Terminalia belerica ("Bihara"), and Terminalia chebula ("Harada"), which provide polyphenols, anthocyanins, flavonoids, and gallic and ellagic acids.
Harada is a small fruit that has laxative, lubricant, antiparasitic, antispasmodic, and nerve calming properties; Bihara balances excess mucus secretion and binds bile acids due to its high concentration of linoleic acid; and Amla is the most potent natural source of vitamin C and has a soothing effect for gastrointestinal (GI) discomfort.
In addition to its primary use for functional gastrointestinal disorders, a variety of studies have found that Triphala Rasayana has antibacterial, antioxidant, anti-inflammatory, antiparasitic, and immunomodulating properties; and may be able to help reverse metabolic disturbances, and significantly reduce low-density lipoprotein-cholesterol, total cholesterol and triglyceride levels; and decrease fasting blood glucose level in diabetic patients. There are also numerous studies indicating it can help prevent cavities (when used orally as part of a mouthwash or brushing powder or paste).
Ingredients:
Each TriphLax 750 capsule contains:
Emblica officinalis... 250 mg
Terminalia belerica... 250 mg
Terminalia chebula... 250 mg
Non-medicinal ingredients: hypromellose (capsule).
100% vegetarian. AOR Triphala contains no: wheat, gluten, nuts, peanuts, sesame seeds, sulphites, mustard, soy, dairy, eggs, fish, shellfish, or animal byproduct.
Part of AOR's Premium series, TriphLax-750 is a vegan, non-GMO, and gluten-free product
Suggested Usage:
Adults: Take 2 capsules twice daily, a few hours before or after taking any other medications or health products, or as directed by a qualified healthcare practitioner. Allow at least 6 to 12 hours for laxative effect to occur. Consult a healthcare practitioner for use beyond 7 days or if symptoms persist or worsen.
Warnings:
Do not use AOR Triph-Lax 750 if you are pregnant or nursing; or if you have Gastro-Intestinal tract constrictions, colon blockage, atonic bowel, appendicitis, IBD, abdominal pain of unknown origin, rectal bleeding, severe dehydration or diarrhea.
Consult a healthcare practitioner prior to using AOR TriphLax-750 if you are taking thiazide diuretics, corticosteroids, licorice root, products which may aggravate electrolyte imbalance, cardiac glycosides or antiarrhythmic medications, or if you have a kidney disorder, fecal impaction or abdominal pain, nausea, vomiting or fever.
Reduce dose or discontinue use if you experience abdominal pain, cramps, spasms or diarrhea.
Health Canada Natural Product Number: 80023928.
Supporting Science:
Ahmed, Suhail et al. "Exploring scientific validation of Triphala Rasayana in ayurveda as a source of rejuvenation for contemporary healthcare: An update." Journal of Ethnopharmacology, 2021.
Gregory, Julie et al. "Neuroprotective Herbs for the Management of Alzheimer's Disease." Biomolecules, 2021.
Peterson, Christine Tara et al. "Therapeutic Uses of Triphala in Ayurvedic Medicine." Journal of Alternative and Cpmplementary Medicine, 2017.
Phimarn, Wiraphol et al. "Effects of Triphala on Lipid and Glucose Profiles and Anthropometric Parameters: A Systematic Review." Journal of Evidence-Based Integrative Medicine, 2021.
Shanbhag, Vagish K L. "Triphala in prevention of dental caries and as an antimicrobial in oral cavity- a review." Infectious Disorders Drug Targets, 2015.
UPC / Barcode:

624917040487