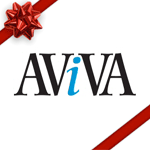 Giving a loved one a gift designed to improve health might be the most thoughtful gift of all. Give the gift of health!

Aviva also has an extensive selection of quality housewares, kitchen items, and beds and bedding, so a gift certificate can make a perfect gift for a wedding present or a bridal shower, or for those setting up in a new home.

You can purchase gift cards in store or over the phone (an Aviva representative will verify all the details). Call locally 204-947-6789 or toll-free at 866-947-6789 to speak with someone right now. A variety of seasonal gift baskets may be available in store, as well.