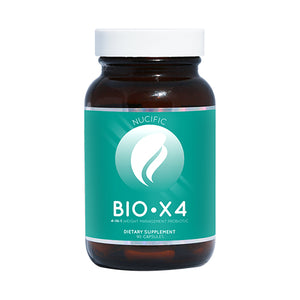 Info: 90 Capsules - Currently Unavailable in Canada
Note: BIO X4 is not currently approved for sale in Canada. Sign up to notified if/when it becomes available.
Product Notes:
Developed by Bariatric Physician Dr. Amy Lee, BIO X4 is a compound of four proven nutrients for ultimate digestive support and weight loss management. Probiotics nourish your GI tract with beneficial gut bacteria, promoting bowel regularity and supporting immune health, while combining with Caralluma Fimbriata to suppress cravings.
Nucuific's proprietary blend of digestive enzymes (amylase, bromelain, lipase) assists the digestion of carbs, fats, and proteins, while powerful anti-oxidizing EGCG from green tea supports increased metabolism. Together these nutrients produce a compounding effect for optimal digestive support, energizing and revitalizing your body from the inside out!
BIO-X4 Ingredients:
BIO-X4 Contains Four Types of Powerful Ingredients:
Digestive enzymes that help get you the maximum amount of nutrients out of everything you eat.
Probiotics (12 Billion Colony-Forming Units of them) to rebalance your digestive tract with healthy gut bacteria.
The appetite suppressing power of Caralluma Fimbriata.
EGCG, sourced from Green Tea Extract, to help support your metabolism.
Suggested Usage:
Take 1 capsule with each meal. When taken 3 times daily, an individual receives 12 billion CFU's. More may be taken as needed.