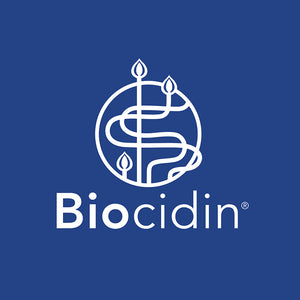 Info: Not Approved for Sale in Canada
A broad-spectrum botanical supplement marketed in the United States for digestive support and cleansing, Biocidin is not currently approved for sale in Canada.
Biocidin® is a registered trademark of Bio-Botanical Research. Statements made by the manufacturer have not been evaluated by Health Canada or the US Food and Drug Administration.
Product Notes:
Without a natural health product license (NPN), Biocidin isn't currently available in Canada, though many of its herbal constituents are available in other formulas that have been evaluated by Health Canada.
Biocidin Ingredients:
Biocidin liquid and capsules contain a proprietary blend of ingredients that include: Bilberry extract, Noni extract, Milk Thistle, Echinacea Purpurea extract, Echinacea Angustifolia, Goldenseal, Shiitake extract, White Willow Bark, Garlic, Grapeseed extract, Black Walnut (hull and leaf), Raspberry, Fumitory extract, Gentian, Tea Tree oil, Galbanum oil, Lavender oil, Oregano oil.