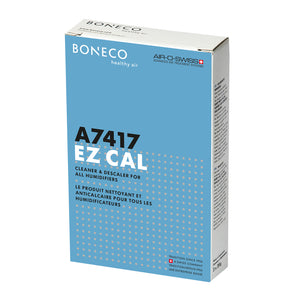 Info: Box of Three 1 Oz (28g) Packets; A7417

Easy to use! This all-natural cleaner and descaler from BONECO / Air-O-Swiss is for routine humidifier maintenance and cleaning as well as for mid-season deep cleaning and pre- and post-season maintenance.
Sorry, this item is temporarily unavailable, until Fall, 2023
Product Notes:
EZCal is formulated for use with pretty much any humidifier or water-streaming appliance, including air washers, ultrasonic humidifiers, evaporators, vaporizers and stream humidifiers. Regular cleaning will help extend the life of your appliance and ensure top performance.
EZCal is a simple and safe cleaner/descaler for humidifiers.
* EZCal can clean mineral build-up and descale every BONECO / AIROSWISS product, as well as other brands of dehumidifiers.
* Simple and safe to use - EZCal ensures a clean humidifier and continuous high performance.
* One box of this powdered type includes 3 individual packets; use just one packet per cleaning, mixed with a litre of water.
* In addition to any AOS (Air-O-Swiss – now called Boneco) models, EZ-Cal is also safe to use on other humidifier brands.
* Product of the USA.
AOS/Boneco 7417
Ingredients:
Citric Acid.
Suggested Usage:
Add a packet to a litre of water to dissolve the powder, first; pour that solution into the container to be cleaned; and let it soak for a half hour; then scrub and rinse. Only use 1 packet per litre/32oz of water – do not change that ratio. Do not run the unit when it is filled with the EZCal solution. Thoroughly rinse the base with potable water and make sure no EZCal residues remain in the base. For best results, use EZCal every two weeks, depending on the water hardness.
Warnings:
Keep EZ Cal out of reach of children. Causes serious eye irritation, and skin irritation. Wash hands thoroughly with soap and water after handling. If any gets in the eyes, rinse continuously with water for several minutes; remove contact lenses if applicable/possible; and get medical attention if the irritation persists.
UPC / Barcode:

834546000268