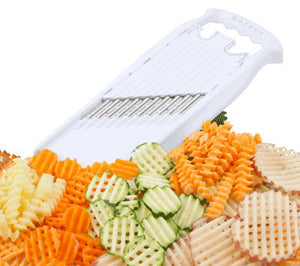 Info: Wave or Waffle Pattern Vegetable Slicing Tool
Info: Wave or Waffle Pattern Vegetable Slicing Tool
BÖRNER of Germany, manufactures the finest quality vegetable slicers on the market today with leading edge design and technology. Their unique grater/slicing tools help you add creativity to any gourmet meal.
Please note, the price of these items may be less in-store, due to their awkward size for shipping.
Product Notes:
This device (which has a white plastic body and steel blades) is adjustable for 6 different cuts: 3 wave patterns; 2 styles of French fries; and 1 waffle or cross-cut design, which can be used for "Pommes gaufrettes" (or "waffle fries," which are like ripple chips with an extra 90 degree cut pattern, so they get stamped with a waffle pattern with little holes in them, as shown).
The Adjustable WaveWaffle Cutter has a click system for changing the position of the blade insert, and a safety position to lock it.
This item is compatible with an optional Borner Safety Holder handle to hold the food against the device; though the holder is not included or available here.
UPC / Barcode:

056975018670