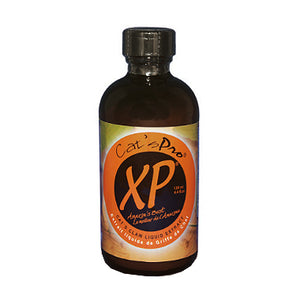 Info: 130 ml (4.4 fl oz) Amber Glass Bottle
Info: 130 ml (4.4 fl oz) Amber Glass Bottle
Cat's Claw (also known as Una de Gato, or Uncaria tomentosa) is a distinctive woody vine which grows up to 30 meters high into the canopy of the Amazonian rainforests in Peru, where the locals have used it as a medicinal tea for many generations for a variety of health issues, including to soothe arthritis and digestive problems such as gastritis.
Product Notes:
Cat's claw gets its name from the hook-like thorns which grow along the vine, which bear a resemblance to the claws of a cat.
Related Product: For those who prefer capsules, we also offer NOW Cat's Claw.

Cat's Pro XP Ingredients:
Concentrated liquid extract of wildcrafted Cat's Claw bark, in a 10 to 1 ratio.
Non-medicinal ingredients: Water, Alcohol, and CMC (Cellulose Gum).
Made in Canada.
Suggested Usage:
Simply mix one teaspoon with your favourite drink. Shake bottle well before using.
UPC / Barcode:

7750310000070