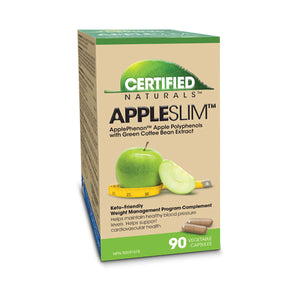 Info: 90 Vegetable Capsules
AppleSlim combines ApplePhenon (a clinically-proven apple polyphenol ingredient) with green coffee bean extract – making it an ideal dietary supplement for use as part of a weight management program and maintaining cardiovascular and liver health.
Info: 90 Vegetable Capsules
AppleSlim combines ApplePhenon (a clinically-proven apple polyphenol ingredient) with green coffee bean extract – making it an ideal dietary supplement for use as part of a weight management program and maintaining cardiovascular and liver health.
Product Notes:
"No nonsense weight management." Recommended by W. Gifford-Jones, MD.
Certified Naturals AppleSlim
Remember the adage, "An apple a day helps keep the doctor away"? It turns out there's something to that ... and that there's something in them that may help keep the pounds at bay, as well. However, in order to get an equivalent dose of their key ingredient that's extracted in AppleSlim capsules to help with weight loss, reducing visceral fat, maintaining healthy blood pressure levels, and supporting cardiovascular health, you'd have to eat
18
unripe apples a day!
Unripe apples have at least three characteristics enabling them to help achieve these goals:
* Polyphenols (especially procyanidins) – the organic molecules they produce to defend the fruit against UV radiation and other environmental factors, which have powerful antioxidant properties.
* High fibre content, which can serve as a prebiotic to nurture beneficial gut flora.
* Ability to inhibit the activity of some of the enzymes which break down lipids (fats) and glucose (sugar), so we won't absorb as much of them. This may not only help us lose weight, but also help reduce total cholesterol and "bad" LDL cholesterol levels while improving the "good" HDL levels.
ApplePhenon
This keto-friendly formulation features ApplePhenon, an extract of apple polyphenols from specially selected wild green unripe apples. Some studies indicate its other benefits may include: improving athletic performance and fatigue resistance; reducing allergic rhinitis symptoms; and reducing eczema/atopic dermatitis symptoms.
It is paired here with another extract, from non-roasted green coffee beans, because a component of their polyphenols (chlorogenic acid) has also shown a strong potential for helping manage blood pressure and blood glucose levels, reducing overall weight, and improving the ratio of lean mass to fat mass. Unlike, green tea extract, green coffee bean extracts are not associated with liver damage, and there is a very low concentration of caffeine in this type (less than 2%), so it very unlikely to induce anxiety or jitteriness.
Related Products: See Certified Naturals Glycemic Control, Goli Apple Cider Vinegar Gummies, and Green Coffee Bean Extract
---
AppleSlim - Video Transcription
Effective, reliable, and safe natural supplements are made from high quality raw materials and developed using solid science. This is why leading research groups around the world collaborated to create ApplePhenon, a patented extract of wild apples.
Central Asia is the only place in the world where native wild apples still exist. Wild apples have been growing in places such as Kyrgyzstan for thousands of years, free from human intervention and pollution. By working with Japanese scientists, we have discovered that the wild apples grown in these areas possess a unique chemical composition and special biological activities.
ApplePhenon is a natural polyphenols product extracted from these wild unripe apples using a patented process. ApplePhenon contains a unique profile of oligomeric procyanidins (OPCs). As the primary constituents research has shown that this unique OPC composition is easily absorbed and utilized by the human body.
The antioxidant capacity of ApplePhenon is the highest among natural polyphenol extracts. Clinical research supports its use in: weight management (including visceral fat reduction), cardiovascular support (including cholesterol improvement), glucose management, skin care, allergy relief, and sports performance applications.
Sports endurance and rapid recovery after exercise are important for athletes. ApplePhenon helps alleviate muscle damage by decreasing active oxygen generation during exercise. Clinical studies on college athletes has shown that supplementation of ApplePhenon significantly increases performance and exercise time in stationary bicycle exercises.
ApplePhenon is the key ingredient in Certified Naturals AppleSlim – an innovative formula for use in weight management programs, cardiovascular health, and maintaining healthy blood pressure.
---
ApplePhenon™ is a trademark of BGG.
AppleSlim Ingredients:
Each capsule contains:
ApplePhenon Apple Polyphenols (70% polyphenols) (Malus domestica): 200 mg
Green Coffee Bean Extract (47.5% chlorogenic acids; 2% caffeine): 135 mg
Non-medicinal ingredients: Microcrystalline cellulose, colloidal silicon dioxide, vegetable grade magnesium stearate and hypromellose (vegetable capsule).
Free from animal derivatives, artificial colours, artificial flavours, corn, gluten, wheat, lactose, dairy, preservatives, soy, added sugar, yeast and GMO materials.
Suggested Usage:
Adults (age 19 and up): Take 1 capsules three times daily.
For individuals involved in a weight management program, AppleSlim is intended to complement a healthy lifestyle that incorporates a calorie-reduced diet and regular physical activity.
Warnings:
Keep out of reach of children. Do not use Certified Naturals Apple Slim if you are pregnant. Consult a healthcare practitioner prior to use if you are breastfeeding.
Health Canada Natural Product Number: 80091618. (Certified Naturals / Gordian Health)
Supporting Science:
Coffee Abundant in Chlorogenic Acids Reduces Abdominal Fat in Overweight Adults: A Randomized, Double-Blind, Controlled Trial. Nutrients. 2019 Jul.
Consumption of Green Coffee Reduces Blood Pressure and Body Composition by Influencing 11β-HSD1 Enzyme Activity in Healthy Individuals: A Pilot Crossover Study Using Green and Black Coffee. BioMed Research International. 2014
Svetol®, green coffee extract, induces weight loss and increases the lean to fat mass ratio in volunteers with overweight problem. Berkem®, Le Marais ouest, BP 4, 24 680 Gardonne, France.
UPC / Barcode:

628341621052