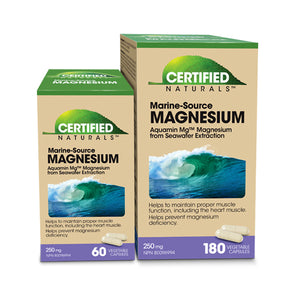 Info: Available in 60 or 180 Capsules
Aquamin Mg marine-source magnesium helps prevent magnesium deficiency and maintain proper muscle and cardiovascular function.
Info: Available in 60 or 180 Capsules
Aquamin Mg marine-source magnesium helps prevent magnesium deficiency and maintain proper muscle and cardiovascular function.
Product Notes:
"Bioavailable magnesium from the sea."
- Recommend by W. Gifford-Jones, MD
Perhaps you've avoided supplemental magnesium due to adverse reactions or because you find them inconvenient with messy liquids or fizzy drink powders. Now there's a new alternative: a well-tolerated, readily-absorbed type which has been extracted from the sea. Aquamin Magnesium comes in convenient capsules that you only have to take one or two of each day with meals.
Magnesium Deficiency
Magnesium is an essential mineral involved in hundreds of roles in our bodies, including muscle relaxation, bone formation, and cardiovascular function. But from one- to two-thirds of us (depending on our age) don't take in enough of it, from our diets.
If you've been experiencing difficulties with sleeping, or are prone to muscle twitching, or have unexplained chronic pain, fatigue, weakness, or concentration issues, you may well have a magnesium deficiency.
Forms of Magnesium
Of course, many supplementary forms of magnesium are available in a variety of formats (including capsules, liquids, and powders), with most of them being bound to a chemical compound. But some people have issues tolerating certain forms, and they aren't all absorbed equally well.
Aquamin Mg - Magnesium Hydroxide
This new type of magnesium is literally drawn from the sea: from fresh Irish Sea water, to be precise (with the vast majority of the sodium removed), where it exists in suspension along with six dozen trace minerals which work synergistically with the magnesium as co-factors to facilitate its absorption.
In fact, a recent study from the University College Cork, Ireland has shown Aquamin Mg is over three times more soluble and absorbable than magnesium oxide (the type most likely to cause diarrhea), and it's even slightly more absorbable than magnesium chloride, which is another better-tolerated type, but which only contains about one-third the amount of elemental magnesium by volume (12%, vs. 33% for Aquamin Mg), meaning you'd have to take far more (or far bigger) capsules or teaspoons of a magnesium chloride version to get the same dosage as this new type, magnesium hydroxide.
Marine-Source Magnesium with Aquamin Mg Ingredients:
Each vegetable capsule contains:
250 mg Magnesium (Aquamin® Mg magnesium hydroxide)
Non-medicinal ingredients: Colloidal silicon dioxide, microcrystalline cellulose, vegetable grade magnesium stearate and hypromellose (vegetable capsule).
Free from animal derivatives, artificial colours, artificial flavours, gluten, wheat, lactose, dairy, preservatives, soy, added sugar, yeast and GMO materials.
Aquamin® Mg™ is a marine-source magnesium and mineral matrix extracted from fresh Irish seawater. It contains 33% elemental magnesium along with over 70 other minerals, including calcium, potassium, selenium, silicon, strontium and zinc.
Despite coming from seawater, it is not high in salt: each capsule provides less than 1 mg of sodium (about 0.61 mg, in fact), while Health Canada's recommended sodium intake is well over 1,000 times that (1,500 mg, and not to exceed 2,300 mg per day).
Suggested Usage:
Adults: Take 1 capsule 1 to 2 times daily with food, or as directed by a health care practitioner. Taking it with your late meal may help you get a more relaxed sleep.
Adolescents (age 9 to 18): Take 1 capsule daily with food, or as directed by a health care practitioner.
Marine-Source Magnesium can be taken in combination with the original Cal-Mag form of Aquamin. In fact, they have recently been studied in a clinical trial to see if they can help slow or even reverse symptoms of age-related cognitive decline, as they did in an animal study, and an animal trial also found the combination could also improve the diversity of the microflora in the gut, just as some probiotics do.
Taking one capsule of each type (the Plant-Source Calcium Magnesium and the Marine-Source Magnesium) together per day provides a total of 219 mg calcium and 317 mg of magnesium.
But some people are more sensitive to magnesium, which may start having a laxative effect at 350 mg of supplements per day, and you should not exceed taking in more than 500 mg of elemental magnesium per day.
So if you do take these products in combination, or in combination with other magnesium supplements (including many standard multivitamins: check their labels; if they are high in magnesium, you may want to limit yourself to one Marine-Source Magnesium capsule per day, especially to begin with), the recommended combination doses for adults are as follows:
If you are combining the two types of Capsules: The normal dose of the Plant-Source Calcium Magnesium capsules is 2 capsules twice per day. But if you are adding Marine-Source Magnesium into your supplementary regimen, then do take your normal 2 capsule dose of Plant-Source Calcium Magnesium with food during the day, but only one capsule of it with your food at dinnertime, along with 1 capsule of the Marine-Source Magnesium.
If combining Marine-Source Magnesium Capsules with Plant-Source Calcium Magnesium Liquid: The normal dose of the Plant-Source Calcium Magnesium Liquid is two tablespoons daily, but because each dose of that contains 200 mg of magnesium, they recommend scaling that back to just 1 tablespoon with one of your meals per day, while taking a single capsule of the Marine-Source Magnesium at a different time of day/meal.
Warnings:
Keep out of reach of children. Known adverse reactions: At 2 capsules per day: Some people may experience diarrhea.
Health Canada Natural Product Number: 80096994. (Certified Naturals)

Product Options:

Marine Source Magnesium (60 Capsules) -
$18.69
- UPC: 628341621076
Marine Source Magnesium (180 Capsules) -
$42.49
- UPC: 628341621113