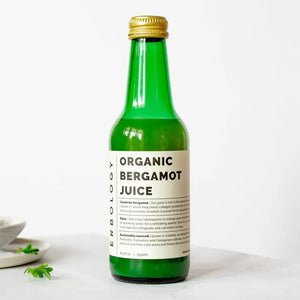 Info: 250 ml Amber Glass Bottle
Although not nearly as well known in the rest of the world as the extracts from its peels which appear in essential oils, perfumes, cosmetics, and supplements, the actual juice from this Mediterranean fruit may have important benefits for people's cardiovascular and immune systems, and may even combat acne. This juice is made from the whole, fresh, organic inner fruit (not from concentrate), and has been not been filtered, diluted or sweetened in any way.
Sorry, this item is only available in-store.
Product Notes:
Bergamot is a lime-coloured citrus fruit (Citrus bergamia) about the size of an orange which grows mainly in the Mediterranean - especially southern Italy. It's believed to have originated as a hybrid of lemons and bitter oranges.
Most of us have probably unknowingly encountered the bitter tastes or scents from the essential oils extracted from its peels, either as a component of Earl Grey or Lady Grey teas, or in perfumes, or in a stand-alone bergamot essential oil (which many use for reducing stress or anxiety).
But there may also be important health benefits from its fruit, as well, which is rich in vitamin C and in bio-active flavonoids and other powerful polyphenols, making it a natural antioxidant with anti-inflammatory properties that can help the immune system and combat premature aging, and it also appears to be able to lower LDL cholesterol levels, which is why it's been used for hyperlipidemia. There have even been studies showing it may be able to alleviate acne, and that it has anti-microbial effects that may help curtail Helicobacter pylori infections (which are associated with heartburn and peptic ulcers.
Ingredients:
100% organic bergamot orange (Citrus bergamia (L.)), extracted from the fresh fruit. Sourced directly from small farmers in Calabria, Italy (the main region this type of fruit has been grown for many generations).
Not from concentrate. Unfiltered, undiluted and unsweetened.
Suggested Usage:
Take 2 to 4 tablespoons a day, either on its own, or added to purified water, salad dressings or smoothies.
Store bottle in a cool, dark place, to begin with. Once it's opened, keep it in the fridge and finish it within 10 days.
Supporting Science:
"Antioxidant and Antisenescence Effects of Bergamot Juice." Oxidative Medicine and Cellular Longevity, 2018.
"Bergamot (Citrus bergamia Risso) Flavonoids and Their Potential Benefits in Human Hyperlipidemia and Atherosclerosis: an Overview." Mini Reviews in Medicinal Chemistry, 2016.
"Biological effects of bergamot and its potential therapeutic use as an anti-inflammatory and antioxidant agent." Pharmaceutical Biology, 2023.
"Clinical Pharmacology of Citrus bergamia: A Systematic Review." Phytotherapy Research: PTR, 2017.
"Effects of Citrus Fruit Juices and Their Bioactive Components on Inflammation and Immunity: A Narrative Review." Frontiers in Immunology, 2021.
"Essential Oil and Juice from Bergamot and Sweet Orange Improve Acne Vulgaris Caused by Excessive Androgen Secretion." Mediators of Inflammation, 2020.
"In vitro effect of bergamot (Citrus bergamia) juice against cagA-positive and-negative clinical isolates of Helicobacter pylori." BMC Complementary and Alternative Medicine, 2015.
"Protective Effects of Bergamot (Citrus bergamia Risso & Poiteau) Juice in Rats Fed with High-Fat Diet." Planta Medica, 2020.
"The effect of bergamot on dyslipidemia." Phytomedicine: International Journal of Phytotherapy and Phytopharmacology, 2016.
UPC / Barcode:

5060321910766