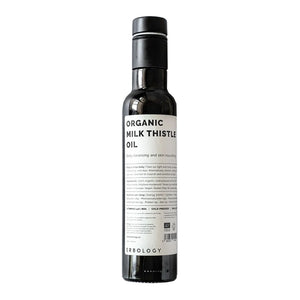 Info: 100 ml Amber Glass Bottle (10 servings)
Milk Thistle is a flowering plant with potent anti-inflammatory and anti-oxidant effects, which have traditionally been used to help cleanse and protect the liver and to reduce hangovers, when taken internally, or to protect the skin against dryness, environmental damage, premature aging, or acne or rosacea, when used topically.
Sorry, this item is only available in-store.
Product Notes:
As a food oil, milk thistle oil has a subtle, nutty flavour that complements vegetables with crisp green leaves and can add the missing touch to creamy dips or savoury and vegetable-based dishes.
It's also a great way to nourish your skin at night. To begin with, it has plenty of linoleic fatty acids, which help keep your skin hydrated and moisturized all day by creating a barrier on the epidermis to lock moisture in. Second, its principal active ingredient is silymarin, which is reputed to be even more potent as an antioxidant than two other compounds well-known to skin-care products: vitamin C and E (which milk thistle oil contains, as well). That helps it protect your skin against ultraviolet light damage from the sun, and helps prevent the collagen and elastin in it from breaking down. Milk Thistle oil can also help control how much sebum the skin produces and help calm irritated skin, while being non-comedogenic (non-pore-clogging), which can help control acne breakouts. It can even help improve circulation in the skin at a cellular level, and its anti-inflammatory properties can also help relieve rosacea, redness, and itching. Last but not least, Milk Thistle Oil has also been shown to inhibit glycation, the aging process wherein sugars circulating within the bloodstream bind with the proteins in collagen and elastin proteins in the skin (which are there to keep the skin firm and supple).
Ingredients:
100% organic cold-pressed oil from the seeds of milk thistle (Silybum marianum (L.) Gaertn)
Certified organic, with no additives, gluten, or GMO ingredients.
Sustainably sourced from milk thistle grown in Eastern Europe by organic farmers and harvested in the end of summer and early autumn. The seeds are cold-pressed to extract their oil, and then packed into environmentally-friendly amber glass bottles, in small batches.
Suggested Usage:
As a nutritional supplement, take one to two teaspoons a day, either on its own, neat, or drizzled over dips, vegetables, salads, or yoghurt. (Avoid cooking with or heating it, however.)
For topical use, apply a small amount directly to the skin and hair at night, to nourish and protect them.
Supporting Science:
Liu, Wenfeng et al. "Potent inhibitory effect of silibinin from milk thistle on skin inflammation stimuli by 12-O-tetradecanoylphorbol-13-acetate." Food & Function, 2015.
Mamalis, Andrew et al. "The active natural anti-oxidant properties of chamomile, milk thistle, and halophilic bacterial components in human skin in vitro." Journal of Drugs in Dermatology: JDD, 2013.
Marmouzi, Ilias et al. "The food plant Silybum marianum (L.) Gaertn.: Phytochemistry, Ethnopharmacology and clinical evidence." Journal of Ethnopharmacology, 2021.
Shin, Seoungwoo et al. "Anti-glycation activities of phenolic constituents from Silybum marianum (Milk Thistle) flower in vitro and on human explants." Molecules (Basel, Switzerland), 2015.
UPC / Barcode:

5060321910056