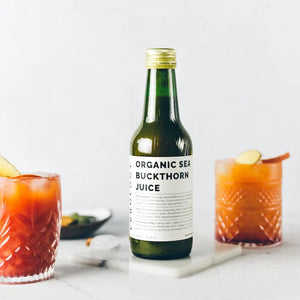 Info: 250 ml Amber Glass Bottle
The bright, yellow-orange Sea Buckthorn berries which go into this juice have an incredible diversity of vitamins (especially the powerful antioxidant vitamin C), minerals, omega fatty acids and healing plant sterols that can benefit your eyes, skin, heart, and mucous membranes.
Sorry, this item is only available in-store.
Product Notes:
With a sharp, tart, yet refreshing flavour, with notes of tropical pineapple and gooseberry, Sea Buckthorn Juice can either be drank on its own (for an energizing boost, try a shot of it instead of your usual coffee), or combined with orange or carrot juice.
Seabuckthorn has over 200 bioactive substances. It's a natural source of omega, 3, 6, 9 and 7, and includes all eight members of the Vitamin E family. It's packed with phytosterols, which are known for their LDL lowering effects, and contains lycopene, a powerful antioxidant.
Sea buckthorn is actually one of the world's most nutritionally complete foods, containing vitamins, minerals, Omega-7, proteins (especially globulins and albumins), fibre, and serotonin. A unique balance of tocopherols, carotenoids, plant sterols and Omega-7 give seabuckthorn strong anti-inflammatory and anti-oxidant properties.
It's also a powerful immune system enhancer, with its lactic acid probiotic bacteria. Besides conferring antioxidant and cardiovascular protection, it's also an anti-inflammatory agent and immune system booster, and can help with cellular repair and rejuvenation.
Why go for a pure Juice?
Although some companies produce Sea Buckthorn (which also goes by the name seaberry or hippophae) in capsule form, supplements often contain fillers, binding agents and capsule casings that are animal-derived. They also provide isolated nutrients, while natural whole foods like this one contain potent phytonutrients that work together to support your wellbeing.
Ingredients:
100% organic sea buckthorn berries. Undiluted and unsweetened.
This product is certified organic and has no GMO ingredients, and is gluten-free, and has no additives or added sugar.
This juice is produced from sustainably sourced, organic sea buckthorn berries grown by small farmers in Eastern Europe. They are hand-picked during the annual harvest season in August and immediately frozen to preserve their nutrients, and juiced in small batches.
Suggested Usage:
Take 2 to 4 tablespoons a day, either 'neat' or added to filtered water, salad dressings or smoothies. Store in a cool, dark place until opened. After opening, keep it in the fridge and finish within 10 days.
UPC / Barcode:

5060321910018