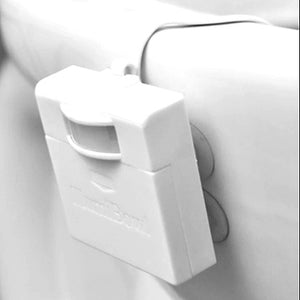 Info: Motion-Detecting Night Light for the Bathroom
Info: Motion-Detecting Night Light for the Bathroom
Many people - young and old - need to go use the bathroom in the dead of night, but it can be very disruptive for sleep patterns when you've got to turn the lights on. Leaving the lights off isn't ideal either, it can be potentially dangerous stumbling around in the dark, or annoying, if it leads to a mess or someone 'falling in.'
The IllumiBowl is a self-contained, battery-operated night light that hangs over the outside of the rim of any toilet, facing the entrance-way. As soon as you approach the toilet in the dark, IllumiBowl motion-detecting sensor will activate an LED light which shines inside the bowl, producing your choice of either a rainbow of gently alternating colours, or a single shade of light.
Product Notes:
* Fits Any Toilet
* 8 Colours: Set Your Favourite or Rotate
* Stay-Put Arm
* 3-Stage Dimmer
* Never Fall Design
* Requires 3 AAA Batteries (not included)
Suggested Usage:
1) Shape it to Fit to Toilet: Lift toilet seat and place IllumiBowl on the outside of the toilet, over a portion facing the entrance of the bathroom (or the line of sight where you will be walking in front of it). Bend the IllumiBowl arm over the toilet rim. To reinforce how well the arm stays on, take note of where it makes contact with the rim, remove the IllumiBowl, and bend the shape of both corners to a 90 degree angle.
2) Install IllumiBowl: Remove the back panel, insert three AAA batteries (not included), and replace the panel. Pre-moisten the suction cups (if applicable; some models do not have them), and slip the IllumiBowl over the rim of the toilet with the light on top of the inner rim, and the front of IllumiBowl facing the entrance of the bathroom. (Note: your IllumiBowl will work best if the sensor is facing the door; some locations maybe better than others depending on bathroom layout. Adjust as needed.)
3) Turn out the Lights (it only works in the dark). When it detects movement in front of it, it will stay on for two minutes.
4) To change the colours or brightness, use the Single Button Control:
- When the IllumiBowl is on, its default operation is to rotate between its various colours,if you wish it to stay on one particular colour, simply (short) press the button on its top left side when it reaches that colour. It will stay in that mode until you reset it by clicking it once the next time it is in operation, which restores the rotating colours mode.
- To alter the brightness, press the button and hold it down until the brightness changes to the desired level.
5) To clean: Wipe off with a wet wipe, damp cloth, or cleaner. Do NOT immerse in water or place directly under running water.
UPC / Barcode:

857101004488