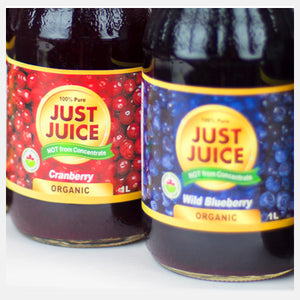 Info: 1L (Various Flavours) - Available In-Store
These organic juices taste so good because they're 100% pure and not made from concentrate. To make these juices, after sourcing the fine organic fruit, they're simply pressed -- no dilution, nothing added, nothing taken away: it's Just Juice!
Product Notes:
Natural fruit is high in antioxidants and nutrients, and each different type can have specific health benefits.
* 100% Pure
* Certified Organic (Non-GMO) (except for the Pomegranate)
* Not From Concentrate
* Nothing added: No added sugars. No added preservatives.
* No Dilution
* Gluten-free
* Premium GREEN Packaging – glass preserves nutrient profile. 100% recyclable. BPA-free.
A half dozen different types of Just Juice are usually available in store at our Winnipeg location. Due to the weight and fragility of these large glass bottles, we generally do not ship these products; however, it may be possible to arrange shipment by special order. Please contact us for details.
Suggested Usage:
Refrigerate after opening. All these types have been pasteurized. Some types have naturally occurring pulp and sediment. You may want to dilute the cranberry type with 3 equal parts of water before drinking.

Product Options:

Organic Beet Juice -
$12.99
- UPC: 065279114001
Organic Wild Blueberry Juice -
$15.99
- UPC: 065279103005
Organic Sweet Cherry Juice -
$15.99
- UPC: 065279102008
Organic Tart Cherry Juice -
$12.99
- UPC: 065279111000
Organic Cranberry Juice -
$12.99
- UPC: 065279112007
Pomegranate Juice -
$8.99
- UPC: 065279116005