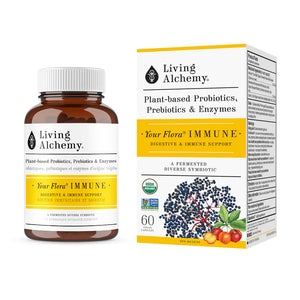 Info: 60 Pullulan Capsules
Though nearly all probiotics provide both Digestive & Immune Support to some degree, this type has been bolstered with two nutrients strongly associated with improved immune function during the cold and flu season: elderberry, and Vitamin C.
Info: 60 Pullulan Capsules
Though nearly all probiotics provide both Digestive & Immune Support to some degree, this type has been bolstered with two nutrients strongly associated with improved immune function during the cold and flu season: elderberry, and Vitamin C.
Product Notes:
IMMUNE is one of the latest additions to Living Alchemy's "Your Flora" line, which all share the same type of Symbiotic base, with most having at least one other whole food ingredient to provide additional support to help support specific health concerns.
"Your Flora" is a line of Plant-based Probiotics, Prebiotics and Enzymes that's produced in a base of non-GMO, certified organic soybean which has been fermented with a combination of kefir and kombucha: a living culture with about three dozen different strains of beneficial bacteria, which generates additional vitamins and minerals, digestive enzymes, and other nutrients. That gets freeze-dried to preserve all those nutrients, and is ground up to a powdered form, before being encapsulated in a special type of capsule made from "pullulan": a gummy fibre produced from fermenting tapioca, which is not only suitable for vegans (unlike the usual gelatin-based capsules), but also serves as a prebiotic to nourish the probiotics themselves as it's being digested.
The "Kefi-Soy" foundation in all the "Your Flora" products already provides a good deal of Digestive & Immune Support, not only as a source of so many types of probiotics (many types of oral probiotics do so, especially with respect to allergies and auto-immune diseases, since the immune system and gut flora are intricately related, as explained in some of the references below), but also because the fermentation process enhances its content of a number of key building blocks the digestive and immune systems can use for energy and repair, including amino acids, butyric acid, L-glutamine (which helps heal the gut lining), nucleotides, phospholipids, peptides, and polyphenols (which promote immunity).
This particular formula then adds two additional ingredients with lots of antioxidants to that Living Culture Symbiotic foundation, in order to further target immune function. In both cases, they use the whole food, rather than just an extract or isolate, not only in order to provide the plant's entire range of active constituents (rather than just the most well-known one) but also to facilitate its optimal absorption by supplying all the natural cofactors our bodies expect to find in the food.
* Organic Elderberry berries, an herb widely used in traditional medicine for reducing the symptoms of upper respiratory infections. This formula uses the European variety, which has been cultivated as a medicinal plant for many generations, to provide quite a range of anthocyanins, flavonoids, and other polyphenolics that aren't always present in the North American varieties to the same degree.
* Organic Acerola Cherries, which are very rich not only in vitamin C, but also in flavonoids such as rutin and quercetin (cell-protecting agents with antioxidant, antinociceptive (pain-reducing), and anti-inflammatory properties).
Your Flora IMMUNE Ingredients:
Each capsule contains:
133.3 mg Kefi-Soy: Non-GMO Organic Fermented Soybean (Glycine max, seed) (fermented with diverse strain Kefir-kombucha culture)
133.3 mg Organic European Elderberry (Sambucus nigra subsp. nigra, fruit)
22.5 mg Vitamin C from Organic Acerola Cherry (Malpighia glabra, fruit)
Non-medicinal ingredients: Organic pullulan capsule (Organic pullulan starch, water).
Allergy Alert: contains fermented organic soy.
This product is dairy-free and gluten-free, and is made without any excipients, binders, additives, artificial ingredients or chemicals at every stage of manufacture. It's suitable for both vegetarians and vegans.
Suggested Usage:
Adults: Take 1 to 3 capsules daily; either with or without food. If you are taking antibiotics, take these at least 2 to 3 hours apart from them (either before or after).
This is a shelf-stable product: No Refrigeration Required.
Warnings:
Keep out of reach of children. Do not use Your Flora IMMUNE if you have an immune-compromised condition (such as AIDS, lymphoma, or if you're undergoing long-term corticosteroid treatment). Consult a healthcare practitioner prior to use if you are pregnant or breastfeeding, or if you are taking blood thinners, or have fever, vomiting, bloody diarrhea or severe abdominal pain. Stop use and consult a healthcare provider if symptoms of digestive upset (e.g. diarrhea) occur, worsen and/or persists beyond 3 days. A diuretic effect may occur. Stop use if hypersensitivity/allergy occur.
Health Canada Natural Product Number: 80110749.
Supporting Science:
"A comparative evaluation of the anticancer properties of European and American elderberry fruits." Journal of Medicinal Food, 2006.
"Black elderberry (Sambucus nigra) supplementation effectively treats upper respiratory symptoms: A meta-analysis of randomized, controlled clinical trials." Complementary Therapies in Medicine, 2019.
"HPLC and in vitro evaluation of antioxidant properties of fruit from Malpighia glabra (Malpighiaceae) at different stages of maturation." Food and Chemical Toxicology, 2018.
"In vivo antimutagenic effects of the Barbados cherry fruit (Malpighia glabra Linnaeus) in a chromosomal aberration assay." Genetics and Molecular Research: GMR, 2016.
"Intestinal Flora and Disease Mutually Shape the Regional Immune System in the Intestinal Tract." Frontiers in Immunology, 2020.
"Mechanisms of Action of Probiotics." Advances in Nutrition, 2019.
"Nutritional Modulation of Immune Function: Analysis of Evidence, Mechanisms, and Clinical Relevance." Frontiers in Immunology, 2019.
"Probiotics function and modulation of the immune system in allergic diseases." Allergologia et Immunopathologia, 2020.
"The role of probiotics in the immune response and intestinal microbiota of children with celiac disease: a systematic review." Revista Paulista de Pediatria, 2021.
UPC / Barcode:

628233912800