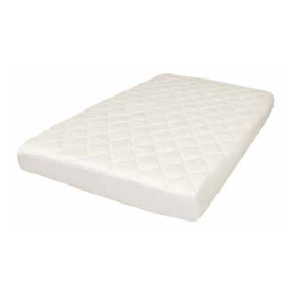 Info: Combination Wool Fill and Cotton Cover
Studies show that sleeping on wool helps babies to cry less and settle more quickly to sleep after feeding. The cover (which is made of soft, unbleached 100% cotton percale) and wool fill are quilted together to eliminate shifting, clumping and hollow spots. Fully elasticized for a secure fit. (The dimensions for crib sizes for Natura products tend to be 28 x 51.4 x 4 inches.)
Info: Combination Wool Fill and Cotton Cover
Studies show that sleeping on wool helps babies to cry less and settle more quickly to sleep after feeding. The cover (which is made of soft, unbleached 100% cotton percale) and wool fill are quilted together to eliminate shifting, clumping and hollow spots. Fully elasticized for a secure fit. (The dimensions for crib sizes for Natura products tend to be 28 x 51.4 x 4 inches.)
Product Notes:
NaturaWool: Natura's Cry Less Wool has the exceptional ability to insulate against heat and cold, creating a natural climate zone that wicks away excess moisture before it has a chance to build up and disturb sleep. It is also naturally hypoallergenic, resisting the build up of harmful allergens and promoting the healthy, sound sleep that's so important for your baby's early years. Best of all, the Cry Less Wool inside the mattress pad is fully washable, making it a naturally convenient choice for protecting your crib mattress.
Safe for Baby's fragile respiratory system
Fully breathable; no harmful chemicals, toxins, or off gassing
Made with all natural materials for healthy, sound sleep
Conveniently washable Cry Less™ Wool fill
Soft, unbleached, 100% cotton percale cover
Studies prove that infants who slept on wool cried less and settled more quickly
Controls temperature to insulate without overheating
Wicks away moisture for a clean, allergen-free sleep
Naturally hypoallergenic, breathable and flame retardant
Fully elasticized for a secure fit; fits standard size cribs
Machine washable for easy care (care instructions: wash in cold water, gentle cycle; tumble dry on low heat).