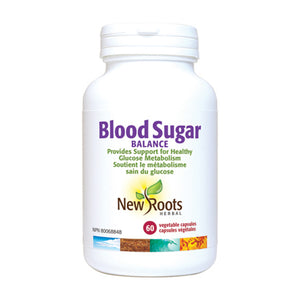 Info: Available in 60 or 120 Capsules
New Roots Herbal's Blood Sugar Balance is an advanced glucose regulator formulation which can naturally help you maintain your glucose levels.
Info: Available in 60 or 120 Capsules
New Roots Herbal's Blood Sugar Balance is an advanced glucose regulator formulation which can naturally help you maintain your glucose levels.
Product Notes:
Blood Sugar Balance Supports Healthy Glucose Metabolism
Both low blood sugar (or hypoglycemia) and high blood sugar (hyperglycemia / diabetes mellitus) can create serious health problems; balancing your blood sugar is necessary to live a long and healthy life.
This formula from New Roots Herbal takes a comprehensive, three-pronged approach, using some components with an insulin-like effect or which can increase insulin receptivity; some which help the pancreas and liver function properly; and some which can defend against the complications of poor blood glucose management.
Related: Also see Certified Naturals Glycemic Control
Ingredients:
Each vegetable capsule contains:
Gymnema sylvestre extract, 25% gymnemic acids: 100 mg
Cassia cinnamon (Cinnamomum aromaticum) bark extract: 93 mg
Bilberry (Vaccinium myrtillus) European fruit extract, 25% anthocyanosides: 80 mg
Quercetin: 75 mg
ᴅʟ‑alpha-Lipoic acid: 50 mg
Grape (Vitis vinifera) seed extract, 80% oligomeric proanthocyanidins: 38 mg
Banaba (Lagerstroemia speciosa) leaf extract, 1% corosolic acid: 33 mg
Bitter melon (Momordica charantia) fruit extract: 13 mg
Chanca piedra (Phyllanthus niruri) extract: 13 mg
Dandelion (Taraxacum officinale) root extract, 3% flavonoids: 13 mg
Fenugreek (Trigonella foenum-graecum) seed extract, 50% saponins: 13 mg
Guduchi (Tinospora cordifolia) extract: 13 mg
Holy basil (Ocimum tenuiflorum) leaf extract, 10% ursolic acid: 13 mg
Indian gooseberry (Phyllanthus emblica) fruit extract: 13 mg
Ginger (Zingiber officinale) rhizome extract: 10 mg
Vanadyl sulfate: 7.5 mg
Chromium (from chromium picolinate): 150 mcg

Non-medicinal ingredients: Vegetable magnesium stearate and silicon dioxide in a Non-GMO vegetable capsule of carbohydrate gum and purified water.
Contains no preservatives, artificial colour or flavour, yeast, wheat, gluten, corn, eggs, soy or starch.
Suggested Usage:
Take 1 Capsule daily with food, or as directed by your healthcare professional. Consult a health care practitioner for use beyond 3 months.
Warnings:
Keep out of reach of children. Do not use New Roots Blood Sugar Balance if you are or are pregnant or breastfeeding or trying to conceive, or if you have liver or gallbladder disorders, bowel obstruction, or alcoholism; or if you are taking acetaminophen, or health products that affect blood coagulation (e.g. blood thinners, clotting factor replacements, acetylsalicylic acid, ibuprofen, fish oils, Vitamin E), as this may increase the risk of spontaneous bleeding. And do not use if you have acid reflux or stomach or intestinal ulcers, or if you are hyposensitive or allergic to cinnamon or Peruvian balsam.
Do not take additional vanadyl sulfate without consulting a health care professional.
Consult a health care professional before taking this product if you have diabetes, or are taking medications for diabetes, high blood pressure, or seizures; if you are taking blood thinners or protease inhibitors; if you have a kidney disorder; or if you see signs of decreased fluid and food uptake, dehydration, and reduced body weight gain.
Discontinue use if you develop symptoms of liver trouble, or if you experience symptoms of hypoglycemia, including feelings of anxiety, dizziness, tremors, sweating, nausea or headache.
May cause irritation of the gastric mucous membranes and reflux, or gastrointestinal disturbance (diarrhea). Hypersensitivity (e.g. allergy) has been known to occur; in which case, discontinue use.
Health Canada Natural Product Number: 80068848.

Product Options:

60 Capsules -
$51.77
- UPC: 628747110884
120 Capsules -
$98.00
- UPC: 628747110860