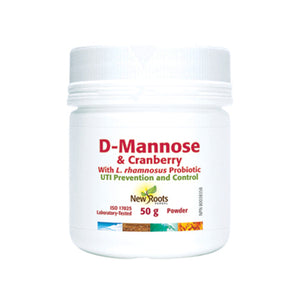 Info: 50 gram Jar of Powder
Info: 50 gram Jar of Powder
Product Notes:
Unlike conventional antibiotic treatments (which can kill good bacteria along with bad), the combination of D-Mannose and Cranberry can prevent the E. coli bacteria that causes urinary tract infections (UTIs) from being able to implant themselves in the urinary tract and help your body flush them out gently and safely.
Cranberry contains something called proanthocyanidins, which can prevent Escherichia coli from adhering to and thereby further colonizing on tissue membranes along the entire urinary tract, particularly when it is as concentrated as this (in an extract over one hundred times as concentrated as the original fruit).
D-Mannose is a natural non-digestible sugar, which won't affect your blood sugar levels. Ingesting it gives those unwanted bacteria something to attach to, in lieu of the bladder walls.
To help crowd out the bad UTI-causing bacteria and support the immune system's ability to fight infections, this formula also supplies a particular strain of probiotics (good bacteria) that's been shown to be effective with antibiotic-resistant bacterial strains: one that's not only able to survive the initial passage through the stomach acids largely unscathed, but also produces "biosurfactants" which also deter the pathogens from sticking to the urinary tract lining (both individually or collectively as biofilms).
Ingredients:
A two scoop dose contains:
D-Mannose: 4,800 mg
Cranberry (Vaccinium macrocarpon, fruit, 107× concentrate): 600 mg
Lactobacillus rhamnosus R0011: 500 million Colony Forming Units
This is a NON-GMO product which contains no wheat, gluten, eggs, citrus, preservatives, artificial colour, flavour, or starch.
Suggested Usage:
Adults: Mix 2 scoops (a scoop is included in the jar) in water or diluted juice twice daily for two days, then 2 scoops in water or diluted juice once daily, or as directed by your health-care practitioner. If you are taking antibiotics, take this product at least 2–3 hours before or after them.
Warnings:
Do not use New Roots Herbal D-Mannose & Cranberry supplement if you have an immune-compromised condition (e.g. AIDS, lymphoma, or undergoing long-term corticosteroid treatment), or if you are experiencing nausea, fever, vomiting, bloody diarrhoea or severe abdominal pain. Consult a healthcare practitioner prior to using New Roots D-Mannose & Cranberry if you are pregnant or breastfeeding, or if you have a history of kidney stones, or if you are taking blood thinners. If symptoms of digestive upset (e.g. diarrhea) occur, worsen, or persist beyond 3 days, discontinue use and consult a healthcare practitioner.
Allergy alert: this product has come into contact with milk and soy; do not use if you have a milk or soy allergy.
Health Canada Natural Product Number: 80038358.
UPC / Barcode:

628747015493