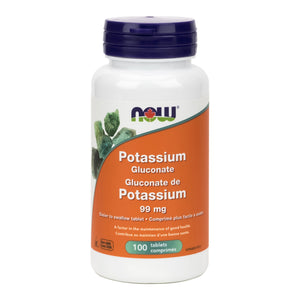 Info: 100 Tablets (99 mg)
Info: 100 Tablets (99 mg)
Product Notes:
This vegetarian and vegan form of Potassium Gluconate can be easily incorporated into anyone's diet, to help support healthy electrolyte and acid/base balance, and all around good health. It may be especially beneficial for athletes or people engaged in endurance or distance activities, or for people who tend to eat a lot of salt/sodium, to help balance the important sodium to potassium ratio.
Related Product: Also see Trophic Potassium Bisglycinate.
Ingredients:
Each tablet contains: 99 mg Potassium (from Potassium Gluconate)
Non-medicinal ingredients: Cellulose, Stearic Acid (vegetable source), Magnesium Stearate (vegetable source), Silica.
Suggested Usage:
Adults: Take one tablet 1 to 3 times daily, with meals. Store in a cool, dry place.
Warnings:
Risk Information: None.
Health Canada Natural Product Number: 80017673.
UPC / Barcode:

733739814609