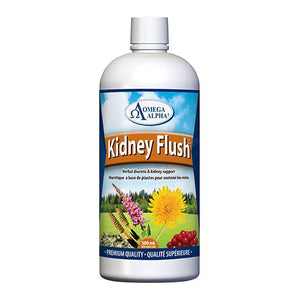 Please Note: While it is still likely to be available in-store, we are unable to ship this item during the winter months due to the risk of it freezing and breaking.
As bombarded by toxins as we are in today's world, our kidneys may need an extra nutritional boost to help them keep performing their purifying functions efficiently. Knowing this, the natural health specialists at Omega Alpha have designed a flush to help purify the kidneys.
Product Notes:
Out kidneys are important organs, helping to purge the body of the toxins and impurities we encounter daily, whether through food, drink, or the broader environment.
Containing ingredients chosen for diuretic and other properties important for kidney purification, Omega Alpha's kidney flush is a perfect way to rejuvenate these important filtration systems in our bodies, whether your job or recreation regularly exposes you to toxins, or you've simply been feeling lately like your kidneys need a boost in function.
Price may vary in-store.
Ingredients:
Each 15 ml Tablespoon contains:
Taraxacum officinale (Dandelion Root): 12 g
Arctostaphylos uva-ursi (Uva ursi Leaf): 0.30 g
Cornus officinalis (Asiatic Cornelian Cherry Fruit): 0.27 g
Lysimachia christinae (Christina Loosestrife Herb): 0.23 g
Polyporus umbellatus (Chuling Sclerotium): 0.23 g
Zea mays (Corn Silk): 0.23 g
Equisetum arvense (Horsetail Stem): 0.15 g
Schisandra chinensis (Chinese Magnolia Vine Fruit): 0.15 g
Non-medicinal ingredients: Citric acid, Potassium sorbate, Sodium benzoate as antimicrobial preservatives.
Contains no dairy, yeast or wheat.
Suggested Usage:
Take 1 to 2 tablespoon(s) once per day, either with or without food. For occasional use -- not for continuous use for longer than one month. Refrigerate after opening (keeps good for up to 6 months).
Warnings:
Do not use if you are pregnant or breastfeeding, or if you are allergic to plants of the Poaceae and/or Asteraceae/Compositae family, or if you have liver or gall bladder disorders, and/or a bowel obstruction. Consult a healthcare practitioner prior to use if you have kidney disease or if you have high blood pressure or cardiovascular disease.
Health Canada Natural Product Number: 80023986.
UPC / Barcode:

826913121805