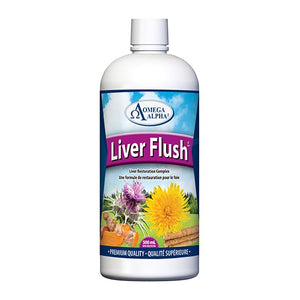 Please Note: While it should still be available in-store, we are unable to ship this item during the winter months due to the risk of it freezing and breaking.
This herbal combination provides protective antioxidants to the liver; helps regenerate the cells of the liver; and most importantly, increases blood flow to the liver in order to help wash away the build-up of stagnant material and thereby cleanse it of debris.
Product Notes:
Some of the ingredients in Omega Alpha Liver Flush (burdock) stimulate the immune system, while others (dandelion) may be able to reverse mild cases of liver cirrhosis. For most people, it's recommended that a liver cleanse be done every 4-6 months.
Price may vary in-store.

Ingredients:
Per 2 teaspoons (15 ml):
Silybum marianum (Milk Thistle Seed): 3.10 g
Arctium lappa (Burdock Root): 2.16 g
Artemisia capillaris (Yin-chen Wormwood Shoot): 2.16 g
Gardenia jasminoides (Cape Jasmine Fruit): 2.16 g
Lycium barbarum (Goji Fruit): 2.16 g
Taraxacum officinale (Dandelion Root): 2.16 g
Reynoutria multiflora, Syn. Polygonum multiflorum (Fleeceflower Root): 1.68 g
Curcuma longa (Turmeric Rhizome): 1.14 g

Non-medicinal ingredients: Purified water, Citric acid, Potassium sorbate, Sodium benzoate.

Contains no alcohol, glycerin, dairy, yeast, corn, wheat or gluten.
Suggested Usage:
Adults: Take 2 tablespoons (30 ml) once per day. May be taken with food. Use for a minimum of 3 weeks to see beneficial effects. Refrigerate after opening. Consume within six (6) months after opening.
Warnings:
Do not use if you are pregnant, breastfeeding; or if you are taking warfarin or other anticoagulants; or if you have liver/gall bladder disorders, and/or bowel obstruction; or if you have an allergy to Lycium barbarum berries, their constituents or to members of the Solanaceae family. Discontinue use and consult a healthcare practitioner if hypersensitivity/allergy occurs; or if yellowing of the skin or whites of the eyes, dark urine, nausea, vomiting, unusual tiredness, weakness, stomach or abdominal pain, and/or loss of appetite occurs, as these may be symptoms of liver disease. Consult a healthcare practitioner prior to use if you have high blood pressure, diabetes, gallstones/bile duct obstruction, stomach ulcers or excess stomach acid. Store away from children.

Health Canada Natural Product Number: 80039596.
UPC / Barcode:

826913121706