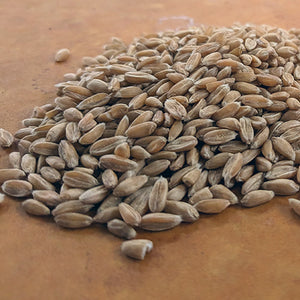 Info: 5 lb. Bags - Available in Store Only
Certified organic spelt (Triticum spelta) berries (also known as kernels or seeds). 18% protein.
Available at our retail location in Winnipeg. Spelt berries are ideal for grinding.
Product Notes:
Spelt is an ancient grain that's been in cultivation for about 10,000 years - initially as a staple, and more recently as a specialty crop, as a substitute for wheat, with a richer flavour (which could be described as sweet and nutty), a higher nutritional value, and several other health benefits. It has less gluten than wheat, and so tends to be tolerated even by people with gluten sensitivity. It also has a low glycemic index, so is unlikely to contribute to blood sugar level spikes. And it has lots of protein, including all 8 of the essential amino acids used to build muscle tissue, and is high in B-complex vitamins, and fibre (both the soluble and insoluble kinds), and is a good source of magnesium and zinc. It's also quite soluble in water, which makes it easier to digest.
Although spelt is a hardier plant than modern wheat varieties, it requires special de-hulling equipment to remove the heavy, coarse hull from the seeds. The Tall Grass Prairie Bread Company (which has an outlet in the Forks) has been using this particular type of Manitoba organic spelt berries from the Pollock Farm near Brandon, MB in many of its baked goods, including bread, sourdough bread, date or other fruit squares, muffins, and ginger snap cookies.
Located in Winnipeg? You can find this spelt, organic unbleached white flour, sourdough starter, vital wheat gluten, and a variety of other baking-related products at our retail location.

Shipping
Given the weight of the bags, they're not suitable for shipping unless special arrangements are made. Local Winnipeg delivery options are available, and you're located elsewhere in Canada you can contact us for more information on the shipping methods that are available for your location.