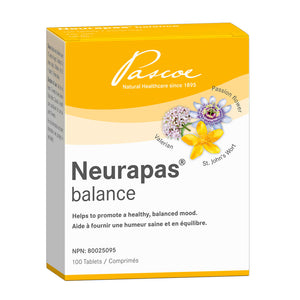 Do you have a case of the "Winter Blues"? Combining St. John's Wort, passionflower, and valerian, the power of nature is now available for you with Neurapas Balance by Pascoe Natural Medicine.
Do you have a case of the "Winter Blues"? Combining St. John's Wort, passionflower, and valerian, the power of nature is now available for you with Neurapas Balance by Pascoe Natural Medicine.
Product Notes:
St. John's Wort may improve mood by steadying the nervous system. Mixed with Passionflower, it produces relaxing and calming effects that are fast-acting. Valerian is basically known as the "calmer" - contributing to improved sleep and balanced mood.
Renew your zest for life and reestablish your emotional balance without the risk of developing a dependency. With all of the benefits of these natural ingredients, your increased vigor might just inspire you to get outside and play in the snow (or some other fun indoor activity).
Neurapas Balance Ingredients:
Each tablet contains:
Dry extract (4.6-6.5 : 1; DHE: 276-390 mg) of Hypericum perforatum (St. John's Wort herb top): 60 mg
Dry extract (3.8-5.6 : 1; DHE: 106-157 mg) of Valerian officinalis (Valerian root): 28 mg
Dry extract (6.25-7.1 : 1; DHE: 200-227 mg) of Passiflora incarnata (Passion Flower herb top): 32 mg
Non-medicinal ingredients: Lactose Monohydrate, Liquid Glucose, Maltodextrin, Silica, Talc, Magnesium Stearate, Povidone, Glycerol, Eudragit-E, Titanium dioxide (E171), Indigo carmine (E1320), Macrogol 6000, Croscarmellose Sodium.
Suggested Usage:
Adults and children or adolescents 12 years and older: Take 2 tablets 2-3 times daily.
Children (6-11 years): 1 tablet 1-3 times daily.
Tablets should be swallowed whole with a little water.
Warnings:
Contra-Indications: Do not use Neuropas if you are allergic (hypersensitive) to St. John's Wort, Passion flower, Valerian or any of the non-medicinal ingredients, if you are pregnant or breastfeeding, if you are taking any of the medicines mentioned under interactions, prior to consulting your doctor, if your skin is hypersensitive to light or if you are undergoing phototherapy or any photodiagnostic procedures, in children under 6 years of age, if you are taking contraceptive medications.
Cautions and Warnings: Do not exceed the recommended dose. If you are light-skinned or photosensitive person, please pay attention to the side effects. Persons using this product should avoid excessive sunbathing or the use of sunbeds or solariums. Consult a health care practitioner if symptoms are not improved after 4 to 6 weeks. Consumption with alcohol, other drugs or natural health products with sedative properties is not recommended. Consult a health care practitioner if sleeplessness persists continuously for more than 3 weeks (chronic insomnia). Consult a health care practitioner if symptoms persist or worsen or if you experience sleep disturbances. Exercise caution if operating heavy machinery or driving a motor vehicle or participating in activities requiring mental alertness within 2 hours of consumption. Consult a health care practitioner prior to use if you are taking anti-anxiety medication, seizure medications, antihistamines, bronchodilators, muscle relaxants, opiates.
Drug Interactions: Medicines containing St. John's Wort have been observed to interact with the following medicines, reducing their effects: Oral anticoagulants (blood thinning medicines) of the coumarin type (warfarin and phenprocoumon), drugs that suppress transplant rejection reactions such as cyclosporin, tacrolimus for internal use, sirolimus, digoxin (drug for heart failure), drugs for the treatment of HIV infections and AIDS, protease inhibitors such as indinavir, non-nucleoside reverse transcriptase inhibitors such as nevirapine, cytotoxic drugs such as imitanib, irinotecan, except for monoclonal antibodies, verapamil (drug for the treatment of heart rhythm disorders, coronary heart disease, high blood pressure, cluster headaches, heart muscle disease), cholesterol lowering drugs such as simvastain, various drugs for depression such as amitriptyline, nortriptyline, midazolam. Ivabradin, Theophyllin, and Hormonal birth control pills. Patients taking NEURAPAS balance together with a medicine that contains any of the above mentioned drugs should ask their doctor for advice. Patients taking this medicine together with certain antidepressants (such as paroxetine, sertraline, trazodone), which inhibit serotonin re-uptake, may experience more pronounced serotonergic effects (such as nausea, vomiting, anxiety, restlessness, confusion). Patients taking this medicine together with other medicines that increase the skin's sensitivity to light may experience increased injury from light exposure.
Known Adverse Reactions: Side Effects: Use of St. John's Wort Herb extract may, especially in fair-skinned individuals, lead to increased sensitivity to sunlight (photosensitization) and therefore produce sunburn-like reactions of skin areas exposed to intense sunlight. There have been rare reports of gastrointestinal symptoms, allergic reactions, fatigue or restlessness. If you experience any side effects, please make sure to inform your health care practitioner. Some people may experience headaches.
Health Canada Natural Product Number: 80025095.
UPC / Barcode:

4039343127088