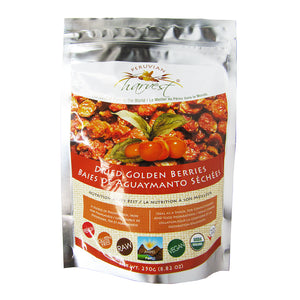 Info: 250 g (8.82 oz) Resealable Bag
Peruvian Harvest lives up to its motto of "The Best of Peru to the World" with these premium quality dehydrated golden berries, which are native to that region. (Two of its alternate names are "Inca berry" and "Peruvian groundcherry.")
Info: 250 g (8.82 oz) Resealable Bag
Peruvian Harvest lives up to its motto of "The Best of Peru to the World" with these premium quality dehydrated golden berries, which are native to that region. (Two of its alternate names are "Inca berry" and "Peruvian groundcherry.")
Product Notes:
Golden berries (which are actually more like mini tomatoes) are not only rich in antioxidants like the carotenoids which give them their colour and in cholesterol-fighting factors such as phytosterols and linoleic and oleic fatty acids, but also in nutrients like vitamin C and phosphorus, to help your bones and teeth, as well as an array of other vitamins and minerals. They even have withanolides (which are more closely associated with Ashwagandha), which may have anti-inflammatory effects.
Ingredients:
Raw, Non-GMO, USDA certified Organic Golden Berries.
This premium product is grown in the Andes mountains of Peru. It is gluten-free, and suitable for Vegans, and has no sugar, dairy, or artificial ingredients added.
Suggested Usage:
Add to baking (cakes, muffins, or breads) or other dessert recipes; try some in different meals or sauces; or eat straight from the bag! Store bag sealed in a cool and dry place, away from heat or light.
UPC / Barcode:

7750310000766