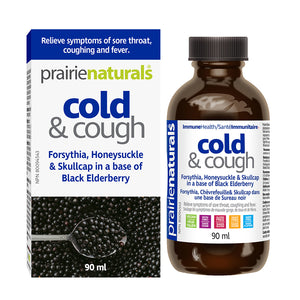 This product is temporarily unavailable; please see a selection of other natural cold and flu remedies.
Despite our best efforts, sometimes we'll catch a cold or flu when they go around. But that doesn't mean we have to totally succumb to them and let them run their course: we can fight back to reduce their severity and shorten their duration, and now we can prevail, with this 100% natural combination of three powerful herbs.
Product Notes:
While only available relatively recently in Canada, Prairie Naturals' Cold & Cough formula is actually a new version of a Traditional Chinese Medicine known as Shuang Huang Lian (双黄连). Based on traditional usage, this particular compound was first developed in 1960 and has been used extensively in Chinese hospitals to help treat influenza and viral or bacterial respiratory infections (including pneumonia).

A licensed health product in Canada, Prairie Naturals Cold & Cough has been issued the Health Canada Natural Product Number 80094543.
In addition to quickly stopping cold and flu progression and reducing a variety of their symptoms, the herbal combination of honeysuckle, forsythia and skullcap known as 'Shuanghuanglian' in Cold & Cough has been shown to be particularly effective against Respiratory Syncytial Virus (RSV), and is even showing some promise in reducing respiratory allergies, as well.
Numerous studies have confirmed it has scores of compounds with antibacterial, antiviral, antipyretic (anti-fever), and anti-inflammatory properties which work synergistically to: increase immune cell activity and target and halt viral replication; reduce sore throat, fever, coughing; help prevent bacterially-induced infections and complications; and limit the common cold to 3 days (for 4 out of 5 people).
Prairie Naturals Cold & Cough is produced as an oral solution in a quality-controlled, double-concentrated formulation to ensure its optimized bioavailability and stability.
News Note: Starting in Feburary 2020, interest in Shuang Huang Lian spiked in mainland China, Hong Kong, Singapore, and other markets when Chinese officials claimed it may be effective in 'inhibiting' the novel coronavirus COVID-19. While SHL has been used for immune and respiratory support, medical officials challenge the claims in relation to COVID-19 (or any new strains), noting it's simply too early to make such statements before clinical trials can take place that could test its efficiency in that regard specifically.
Related Reading: See Protecting Yourself from Viral Infection, COVID-19: Healthy Living Strategies, and Cold & Flu Season.
Related Products: Also see Douglas Labs Immunity and New Roots Cold & Flu.
Ingredients:
Each teaspoon contains:
Forsythia extract 10:1 (Forsythia suspensa, fruit): 750 mg
Honeysuckle extract 5:1 (Lonicera japonica, flower): 750 mg
Baikal Skullcap extract 5:1 (Scutellaria baicalensis, root): 750 mg
Guaranteed Active Composition
Non-medicinal ingredients: Glycerine, purified water, potassium sorbate and natural black elderberry juice flavour.
Suggested Usage:
For maximum efficacy, take immediately upon experiencing symptoms of the common cold, fever, cough or sore throat.
Adults (19+): Take 2 teaspoons (=10 ml) three times a day or until symptoms subside.
Adolescents (age 10 to 18): Take 1 teaspoon (= 5 ml) three times a day or until symptoms subside.
Children (5-9 years): Take half a teaspoon (= 2.5 ml) three times daily.
Children (3-4 years): Take 0.33 teaspoon (1.65 ml) 3 times daily.
Consult a healthcare practitioner for use beyond 7 days.
Keep bottle cool, dry, and away from direct sunlight and heat.
Warnings:
Keep out of the reach of children. Do not use Prairie Naturals Cold and Cough if you are pregnant or breastfeeding. Consult a healthcare practitioner prior to use if you are taking prescription medications. According to TCM (Traditional Chinese Medicine), consult a health care practitioner prior to using Shuang Huang Lian (SHL) if you have spleen-stomach cold deficiency, do not use if you have the common cold due to wind cold, and do not take with tonic herbs. If symptoms persist or worsen, or new symptoms develop, discontinue use and consult a health care practitioner.
Supporting Science:
"Effects of Shuanghuanglian and Qingkailing, two multi-components of traditional Chinese medicinal preparations, on human leukocyte function." Life Sciences, 2002 May 3.
"Chinese patent medicines for the treatment of the common cold: a systematic review of randomized clinical trials." BMC Complementary and Alternative Medicine, 2014 Jul 30.
UPC / Barcode:

067953006879