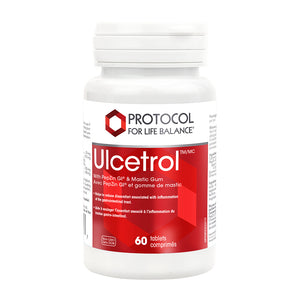 PepZin GI, a patented ingredient, protects the stomach lining by finding damaged mucosal cells in the stomach and encouraging the repair of injured tissue.

PepZin GI, a patented ingredient, protects the stomach lining by finding damaged mucosal cells in the stomach and encouraging the repair of injured tissue.

Product Notes:
Fast-paced lifestyles and poor dietary habits can lead to a host of gastrointestinal problems that can interfere with our everyday activities. Ulcetrol is a dietary supplement that is formulated with key ingredients to protect and support a healthy stomach lining.
An impressive combination of nutrients which are each well-known for their gastrointestinal healing properties, Ulcetrol with PepZin GI and Mastic Gum offers powerful digestive healing properties unlike any other natural health product on the market today.
Its first ingredient is PepZinGI, a chelated complex of the amino acid l-carnosine and the mineral zinc. This specially chelated form of zinc has a unique ability to exert its effects directly on the cells of the stomach and when complexed to L-carnosine, it remains in the gastrointestinal tract for a longer period of time, extending its healing effect. L-carnosine and zinc have a number of pharmacological properties. They act as antioxidants, membrane stabilizers, anti-inflammatories, immunomodulators, and tissue repairers.
Ulcetrol also contains mastic gum, a natural resin from the Pistacia lentiscus, a small evergreen tree that is native to Greece. Mastic gum provides relief of digestive discomfort and may also kill bacteria that can lead to ulcers. Its anti-inflammatory, antibacterial, and antioxidant properties may also offer additional healing support.
Buffered calcium is also included as a buffer to safeguard against excessive stomach acid.
And finally, slippery elm, a native North American herb is included. It has the ability to adhere to the lining of the entire intestinal tract to reduce inflammation and heal ulcers and wounds.
Naming Note: This product is sold under the name GI Guard AM in some markets. Latest product label may differ from the one shown.
Ulcetrol Ingredients:
Each tablet contains:
Calcium (from calcium carbonate): 70 mg
PepZin GI (Zinc L-Carnosine): 37.5 mg, providing:
- 8 mg Zinc
- 28.5 mg L-Carnosine
Mastic Gum (Pistacia lentiscus): 100 mg
Slippery Elm (Ulmus rubra) (Bark): 100 mg
Non-medicinal ingredients: Cellulose, Croscarmellose sodium, Stearic acid, Silica, Magnesium Stearate (vegetable source), Vegetarian Grade Coating (water, hypromellose, titanium dioxide, cellulose, stearic acid).
Suitable for vegetarians and vegans. Free of: sugar, salt, yeast, wheat, gluten, soy, milk, egg or preservatives.
Suggested Usage:
Adults: Take two tablets twice daily. Store in a cool, dry place.
Warnings:
Consult a healthcare practitioner prior to using Protocol for Life Balance Ulcetrol if you are pregnant or breastfeeding, or if you are allergic to the plant or pollen of the Mastic tree (Pistacia lentiscus). Consult a health care practitioner if symptoms persist or worsen. Zinc supplementation can cause copper deficiency.
Health Canada Natural Product Number: 80062610.
Supporting Science:
Misawa T, et al. Clinical study of Z-103 - clinical effects on gastric ulcer and influence on endocrine function. Jpn PharmTher 1992.

Hiraishi H, et al. Polaprezinc protects gastric mucosal cells from noxious agents through antioxidant properties in vitro. Aliment Pharmacl Ther 1999.
UPC / Barcode:

707359133457