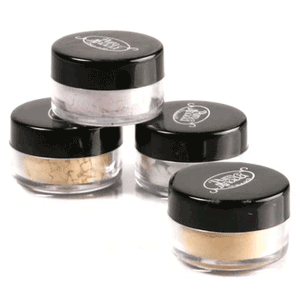 Info: 1 g Sifter Jar; Available in 4 Shades
Info: 1 g Sifter Jar; Available in 4 Shades
Do you have uneven or unwanted skin tones? Pure Anada's Mineral Color Correctors are lightweight and perfect for counteracting the appearance of skin issues such as rosacea, acne scars, under eye circles, and age spots. Each loose mineral color corrector is designed to target specific trouble areas on your skin and is easy to apply. Don't let your imperfections hold you back -- use Pure Anada's Mineral Color Correctors and give your face the confidence it deserves!
Product Notes:
Samples of each Colour (which may vary slightly from the actual ones, depending on your monitor and the lighting and processing of the original photos.)

Lavender to disguise sallow yellow tones, or to brighten dull tones. Typically used on age spots, or darker skin on eye lids.
Mint to conceal red blemishes such as acne, or rosacea.
Saffron to neutralize blue or purple tones, in fair to medium skin tones. Typically used under the eye area.
Sunflower to neutralize blue or purple tones, in deep skin tones.
Ingredients:
Mica, Titanium Dioxide, Zinc Oxide, Silica, Boron Nitride, Iron Oxides, Ultramarines.
Suggested Usage:
Apply color correctors to specific areas with a Pure Anada eyeshadow brush. Dip into the powder, tap off the brush. Gently stipple the desired area with the brush. Apply color correctors BEFORE Loose Mineral Foundation or Sheer Matte Pressed Powder.

Product Options:

Lavender -
$9.99
- UPC: 705105404196
Mint -
$9.99
- UPC: 705105404295
Saffron -
$9.99
- UPC: 705105403991