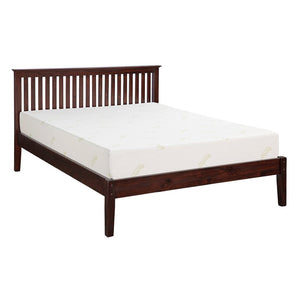 Info: Java Colour; 13-1/2 inch Floor Clearance, 41 inch Headboard; Available In-Store Only in Queen & King Size

With its regular sized headboard with a minimalist design (of just narrow, vertical rails), this solid pine platform bed frame provides all the support you need without overwhelming the room. You can either embrace the minimalist design by restricting the bedding to just a sheet and blanket tucked tightly around the mattress, or soften it up by dressing it up with extra pillows.
Product Notes:
This item only includes the bed frame; the mattress or other bedding supplies pictured are sold separately. For our great selection of mattresses, please see our main Beds and Bedding category page.
Newport Pine Bed Platform Features
Made from solid lodgepole pine. Slatted frame for proper mattress ventilation and support (using 3-3/4 x 7/8" slats of solid pine). Floating mid-rail centre support with dual support legs.
Dimensions: Headboard height: 41 inches; Mattress to ground height: 14"; and 65 x 85" for width and length of the Queen size (including the exterior dimensions of the legs) and 83" X 85" for the King. 

Shipping not included, although we can help local buyers make shipping arrangements with the couriers we deal with, if desired.

Product Options: